How to

Identify and Measure Fittings
Pipe size is an industry designation, not the actual size. View information about how to measure threaded and unthreaded pipe and pipe fittings.
Low-Pressure

Stainless Steel Threaded Pipe Fittings
Use these fittings in a low-pressure pipe line.
Fittings that meet ANSI/MSS SP-114 adhere to high-quality standards for heat treating, material thickness, and marking. 304 stainless steel fittings have very good corrosion resistance. 316 stainless steel fittings have excellent corrosion resistance.
Union connectors separate into three pieces so you can access your line without unthreading pipe connections.
For technical drawings and 3-D models, click on a part number.
Union Straight Connectors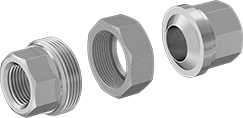 Exploded View
For Use

With:

Air,

Natural

Gas,

Oil,

Steam,

Water
Pressure

Class: 150

Fabrication:

Heat Treated
Specifications

Met:




NPT:

ANSI/MSS

SP-

114,

ASTM A351
BSPP and

BSPT:

ASNI/MSS

SP-114
Pipe Nipples and

Pipe:

Use Schedule 40 stainless steel

Flanges:

Use Class 150 stainless steel
Pipe
Size

Max.

Steam Pressure

Max.

Pressure
Each

Max.

Pressure
Each

BSPP Female

1/8

150 psi @ 350° F
150 psi @ 72° F
00000000
000000
150 psi @ 72° F
00000000
000000

1/4

150 psi @ 350° F
150 psi @ 72° F
00000000
00000
150 psi @ 72° F
00000000
00000

3/8

150 psi @ 350° F
150 psi @ 72° F
00000000
00000
150 psi @ 72° F
00000000
00000

1/2

150 psi @ 350° F
300 psi @ 72° F
00000000
00000
150 psi @ 72° F
00000000
00000

3/4

150 psi @ 350° F
300 psi @ 72° F
00000000
00000
150 psi @ 72° F
00000000
00000
1

150 psi @ 350° F
300 psi @ 72° F
00000000
00000
150 psi @ 72° F
00000000
00000
1

1/4

150 psi @ 350° F
300 psi @ 72° F
00000000
00000
150 psi @ 72° F
00000000
00000
1

1/2

150 psi @ 350° F
300 psi @ 72° F
00000000
00000
150 psi @ 72° F
00000000
00000
2

150 psi @ 350° F
300 psi @ 72° F
00000000
000000
150 psi @ 72° F
00000000
00000