About Threaded Studs and Rods
Medium-Strength

Steel Threaded

Rods—

Grade B7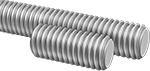 These Grade B7 threaded rods meet the pressure and temperature requirements of ASTM A193 and are often used to secure pressure tanks, valves, and flanges.
Blue PTFE-coated steel threaded rods are chemical resistant and have a slippery surface to thread on smoothly.
For technical drawings and 3-D models, click on a part number.
Lg.

Tensile


Strength,

psi

Hardness
Specifications
Met
Each

1/4"-20

1"
125,000
Rockwell C32
ASTM A193
000000000
00000
1

1/2

"
125,000
Rockwell C32
ASTM A193
000000000
0000
2"
125,000
Rockwell C35
ASTM A193
000000000
0000
3"
125,000
Rockwell C35
ASTM A193
000000000
0000
4"
125,000
Rockwell C35
ASTM A193
000000000
0000
1ft.
125,000
Rockwell C35
ASTM A193
000000000
00000
3ft.
125,000
Rockwell C35
ASTM A193
000000000
00000

5/16"-18

1

1/2

"
125,000
Rockwell C32
ASTM A193
000000000
0000
2"
125,000
Rockwell C32
ASTM A193
000000000
0000
3"
125,000
Rockwell C35
ASTM A193
000000000
0000
4"
125,000
Rockwell C35
ASTM A193
000000000
0000
1ft.
125,000
Rockwell C35
ASTM A193
000000000
00000
3ft.
125,000
Rockwell C35
ASTM A193
000000000
00000

3/8"-16

1

1/2

"
125,000
Rockwell C32
ASTM A193
000000000
0000
2"
125,000
Rockwell C35
ASTM A193
000000000
0000
3"
125,000
Rockwell C35
ASTM A193
000000000
0000
4"
125,000
Rockwell C35
ASTM A193
000000000
0000
1ft.
125,000
Rockwell C35
ASTM A193
000000000
00000
3ft.
125,000
Rockwell C35
ASTM A193
000000000
00000

1/2"-13

2"
125,000
Rockwell C35
ASTM A193
000000000
0000
2

1/2

"
125,000
Rockwell C35
ASTM A193
000000000
0000
3"
125,000
Rockwell C35
ASTM A193
000000000
0000
4"
125,000
Rockwell C35
ASTM A193
000000000
0000
5"
125,000
Rockwell C35
ASTM A193
000000000
0000
6"
125,000
Rockwell C35
ASTM A193
000000000
0000
1ft.
125,000
Rockwell C35
ASTM A193
000000000
00000
3ft.
125,000
Rockwell C35
ASTM A193
000000000
00000
6ft.
125,000
Rockwell C35
ASTM A193
000000000
00000

5/8"-11

3"
125,000
Rockwell C35
ASTM A193
000000000
0000
3

1/2

"
125,000
Rockwell C35
ASTM A193
000000000
0000
4"
125,000
Rockwell C35
ASTM A193
000000000
0000
5"
125,000
Rockwell C35
ASTM A193
000000000
0000
6"
125,000
Rockwell C35
ASTM A193
000000000
0000
1ft.
125,000
Rockwell C35
ASTM A193
000000000
00000
3ft.
125,000
Rockwell C35
ASTM A193
000000000
00000
6ft.
125,000
Rockwell C35
ASTM A193
000000000
00000

3/4"-10

3"
125,000
Rockwell C35
ASTM A193
000000000
0000
4"
125,000
Rockwell C32
ASTM A193
000000000
0000
4

1/2

"
125,000
Rockwell C35
ASTM A193
000000000
0000
5"
125,000
Rockwell C35
ASTM A193
000000000
0000
6"
125,000
Rockwell C35
ASTM A193
000000000
0000
7"
125,000
Rockwell C35
ASTM A193
000000000
0000
8"
125,000
Rockwell C35
ASTM A193
000000000
00000
9"
125,000
Rockwell C35
ASTM A193
000000000
00000
1ft.
125,000
Rockwell C35
ASTM A193
000000000
00000
3ft.
125,000
Rockwell C35
ASTM A193
000000000
00000
6ft.
125,000
Rockwell C35
ASTM A193
000000000
000000

7/8"-9

5"
125,000
Rockwell C35
ASTM A193
000000000
0000
6"
125,000
Rockwell C35
ASTM A193
000000000
0000
1ft.
125,000
Rockwell C35
ASTM A193
000000000
00000
3ft.
125,000
Rockwell C35
ASTM A193
000000000
00000
6ft.
125,000
Rockwell C35
ASTM A193
000000000
000000

1"-8

6"
125,000
Rockwell C35
ASTM A193
000000000
00000
7"
125,000
Rockwell C35
ASTM A193
000000000
00000
1ft.
125,000
Rockwell C35
ASTM A193
000000000
00000
3ft.
125,000
Rockwell C35
ASTM A193
000000000
00000
6ft.
125,000
Rockwell C35
ASTM A193
000000000
000000