About Threaded Studs and Rods
Low-Strength

Steel Threaded Rods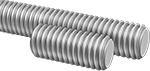 About half the strength of medium-strength steel threaded rods, use these for light duty hanging, mounting, and fastening.
Hot-dipped galvanized steel threaded rods have a thick coating for better corrosion resistance than zinc-plated steel threaded rods. They must be used with other hot-dipped galvanized fasteners.
For technical drawings and 3-D models, click on a part number.
Hot-Dipped Galvanized Steel
Lg.

Tensile


Strength,

psi

Hardness

Pkg.




Qty.

Pkg.

3/8"-16

6"
50,000
Rockwell B61
1
000000000
00000
1ft.
50,000
Rockwell B61
1
000000000
0000
2ft.
50,000
Rockwell B61
1
000000000
0000
3ft.
50,000
Rockwell B61
1
000000000
00000
4ft.
50,000
Rockwell B61
1
000000000
00000
6ft.
50,000
Rockwell B61
1
000000000
00000

1/2"-13

6"
50,000
Rockwell B61
1
000000000
0000
1ft.
50,000
Rockwell B61
1
000000000
0000
2ft.
50,000
Rockwell B61
1
000000000
00000
3ft.
50,000
Rockwell B61
1
000000000
00000
4ft.
50,000
Rockwell B61
1
000000000
00000
6ft.
50,000
Rockwell B61
1
000000000
00000
8ft.
50,000
Rockwell B61
1
000000000
00000

5/8"-11

6"
50,000
Rockwell B61
1
000000000
0000
1ft.
50,000
Rockwell B61
1
000000000
0000
2ft.
50,000
Rockwell B61
1
000000000
00000
3ft.
50,000
Rockwell B61
1
000000000
00000
4ft.
50,000
Rockwell B61
1
000000000
00000
6ft.
50,000
Rockwell B61
1
000000000
00000
8ft.
50,000
Rockwell B61
1
000000000
00000

3/4"-10

6"
50,000
Rockwell B61
1
000000000
0000
1ft.
50,000
Rockwell B61
1
000000000
00000
2ft.
50,000
Rockwell B61
1
000000000
00000
3ft.
50,000
Rockwell B61
1
000000000
00000
4ft.
50,000
Rockwell B61
1
000000000
00000
6ft.
50,000
Rockwell B61
1
000000000
00000
8ft.
50,000
Rockwell B61
1
000000000
00000

7/8"-9

1ft.
50,000
Rockwell B61
1
000000000
00000
3ft.
50,000
Rockwell B61
1
000000000
00000
6ft.
50,000
Rockwell B61
1
000000000
00000

1"-8

6"
50,000
Rockwell B61
1
000000000
00000
1ft.
50,000
Rockwell B61
1
000000000
00000
2ft.
50,000
Rockwell B61
1
000000000
00000
3ft.
50,000
Rockwell B61
1
000000000
00000
6ft.
50,000
Rockwell B61
1
000000000
00000

1 1/8"-7

1ft.
50,000
Rockwell B61
1
000000000
00000
3ft.
50,000
Rockwell B61
1
000000000
00000
6ft.
50,000
Rockwell B61
1
000000000
000000
1ft.
50,000
Rockwell B61
1
000000000
00000
3ft.
50,000
Rockwell B61
1
000000000
00000
6ft.
50,000
Rockwell B61
1
000000000
000000

1 1/2"-6

1ft.
50,000
Rockwell B61
1
000000000
00000
3ft.
50,000
Rockwell B61
1
000000000
000000
6ft.
50,000
Rockwell B61
1
000000000
000000