Low-Scratch

Tube Scrapers

Coiled Flat Wire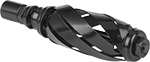 Spiral Blade
Break down tube buildup without scratching. These sharp, rigid scrapers are for soft and hard deposits.
Spiral-blade scrapers are self-sharpening and use spring tension to exert pressure.
Tube Scrapers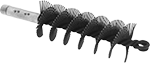 Flat Wire

Round Wire
Break down hard, heavy deposits and tube buildup with these sharp, rigid scrapers.
Electric Tube Cleaners
Force out tough tube blockages with these powered cleaners. Pair the tube cleaner with a flexible shaft and then attach a brush or scraper to the shaft (each component sold separately). Water flows past the shaft to flush out loosened deposits. To power the cleaner, connect a three-prong (NEMA 5-15) extension cord.
Brushes remove soft deposits and light scale. The bristles won't leave behind debris that could cause rust on your workpiece. Match the brush diameter to your tube ID.
Scrapers remove light-to-medium deposits.
Flexible shaft with adapters connects to brushes with 8-32 and 12-24 female threads. Not for use with scrapers.
Air-Powered

Tube Cleaners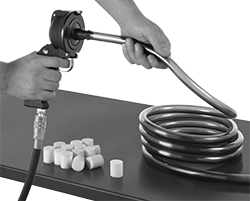 Launch foam cylinders through hose and tubing to power away dirt and deposits. Unlike cleaners with brushes, these work on flexible, curved, and coiled tubing as well as those with fittings, valves, and 90° bends. Connect the gun to your compressed air with the included quick-disconnect fitting. Attach a nozzle and load a cylinder that matches your tube ID, and then insert the nozzle into your tube and pull the trigger. To thoroughly clean the tubing, you may have to use a second cylinder. Cylinders are single use.
The gun and nozzle kit includes a gun and nine nozzles for the following tube IDs: 1/4", 3/8", 1/2", 5/8", 3/4", 1", 1 1/4", 1 1/2", and 2". The cylinders are not included.
Foam Drain Cleaners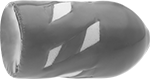 Apply air or water pressure to feed these cleaners through your pipes and scrape away buildup. They are also known as pipe pigs.They are made of heavy duty foam to squeeze through 90° pipe elbows and tight diameter changes. A rubber coating gives them added resistance.
For
Pipe ID
For Use With
Starting
Moving
Material
Each
1

1/2

"
Floor Drains, Showers/Tubs, Sinks
100-200
40-100
Rubber-Coated Polyurethane Foam
0000000
000000
2"
Floor Drains, Showers/Tubs, Sinks
100-200
40-100
Rubber-Coated Polyurethane Foam
0000000
00000
3"
Floor Drains, Showers/Tubs, Sinks
100-150
35-85
Rubber-Coated Polyurethane Foam
0000000
00000
4"
Floor Drains, Showers/Tubs, Sinks
75-125
30-80
Rubber-Coated Polyurethane Foam
0000000
00000