Heel Jaws for Pipe Wrenches


For Wrench
Overall

Lg.

For Wrench Jaw Style
For
Manufacturer
Material
Texture
Includes
Each
6"
End, Straight
Ridgid
Steel
Serrated
Mounting Pin
00000000
00000
8"
End, Straight
Ridgid
Steel
Serrated
Mounting Pin
00000000
0000
10"
End, Straight
Ridgid
Steel
Serrated
Mounting Pin
00000000
0000
12", 14"
End, Offset, Straight
Ridgid
Steel
Serrated
Mounting Pin
00000000
00000
18"
End, Offset, Straight
Ridgid
Steel
Serrated
Mounting Pin
00000000
00000
24"
End, Offset, Straight
Ridgid
Steel
Serrated
Mounting Pin
00000000
00000
36"
End, Straight
Ridgid
Steel
Serrated
Mounting Pin
00000000
00000
48"
Straight
Ridgid
Steel
Serrated
Mounting Pin
00000000
00000
60"
Straight
Ridgid
Steel
Serrated
Mounting Pin
00000000
000000
Hook Jaws for Pipe Wrenches

For Wrenches
with End or Straight Jaw

For Wrenches
with Offset Jaw

For Wrench
Overall

Lg.

For Wrench
Jaw Style
For
Manufacturer
Material
Texture
Each
6"
End, Straight
Ridgid
Steel
Serrated
00000000
000000
8"
End, Straight
Ridgid
Steel
Serrated
00000000
00000
10"
End, Straight
Ridgid
Steel
Serrated
00000000
00000
12"
End, Straight
Ridgid
Steel
Serrated
00000000
00000
14"
End, Straight
Ridgid
Steel
Serrated
00000000
00000
14"
Offset
Ridgid
Steel
Serrated
00000000
00000
18"
End, Straight
Ridgid
Steel
Serrated
00000000
00000
18"
Offset
Ridgid
Steel
Serrated
00000000
00000
24"
End, Straight
Ridgid
Steel
Serrated
00000000
00000
24"
Offset
Ridgid
Steel
Serrated
00000000
00000
36"
End, Straight
Ridgid
Steel
Serrated
00000000
000000
48"
Straight
Ridgid
Steel
Serrated
00000000
000000
60"
Straight
Ridgid
Steel
Serrated
00000000
000000
Nuts for Pipe Wrenches


For Wrench
Overall

Lg.

For Wrench Jaw Style
For
Manufacturer
Each
6"
End, Straight
Ridgid
00000000
00000
8"
End, Straight
Ridgid
00000000
0000
9

1/2

", 10"
End, Straight
Ridgid
00000000
0000
12"
End, Straight
Ridgid
00000000
0000
14"
End, Offset, Straight
Ridgid
00000000
0000
14

1/2

", 18"
End, Offset, Straight
Ridgid
00000000
0000
20", 24"
End, Offset, Straight
Ridgid
00000000
00000
36"
End, Straight
Ridgid
00000000
00000
48"
Straight
Ridgid
00000000
00000
60"
Straight
Ridgid
00000000
00000
Springs for Pipe Wrenches

Coil and Flat Spring

For Wrench
Overall

Lg.

For Wrench
Jaw Style
For
Manufacturer
Includes
Each
6"
End, Straight
Ridgid
Coil and Flat Spring
00000000
00000
8"
End, Straight
Ridgid
Coil and Flat Spring
00000000
0000
10"
End, Straight
Ridgid
Coil and Flat Spring
00000000
0000
12"
End, Straight
Ridgid
Coil and Flat Spring
00000000
0000
14"
End, Straight
Ridgid
Coil and Flat Spring
00000000
0000
18"
End, Straight
Ridgid
Coil and Flat Spring
00000000
0000
24"
End, Straight
Ridgid
Coil and Flat Spring
00000000
00000
36"
End, Straight
Ridgid
Coil and Flat Spring
00000000
00000
48"
Straight
Ridgid
Coil and Flat Spring
00000000
00000
60"
Straight
Ridgid
Coil and Flat Spring
00000000
00000
Round-Grip

Nonmarring Pipe Wrenches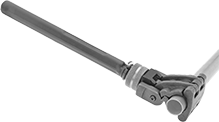 Jaw and
Handle Sold Separately
Build your own pipe wrench by pairing a handle and jaw to grip most round surfaces, even highly polished objects. Push down on the wrench and pull the handle toward you—the jaws will tighten around the workpiece.
Heavy Duty Adjustable Wrenches

Straight Jaw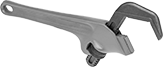 Offset Jaw

Replacement Jaw

Replacement Nut
These tools have the heavy duty handle and adjustment mechanism of a pipe wrench and the smooth jaws of a traditional adjustable wrench.
Wrench with offset jaw has an extra-wide opening for securing sink and tub drain nuts.