Load-Stopping

Air Cylinders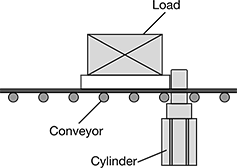 When the rod
extends,
the load
stops.
Control the movement of loads on your conveyor—the rod on these air cylinders extends to stop loads and retracts to let them pass. While standard air cylinders have a weaker rod that will bend with side impact, these air cylinders have a thick carbon steel rod that won't bend. The rod is also chrome plated, so it won't corrode in wet environments.
To activate relays and controllers using these air cylinders, add a sensor (sold separately).
For technical drawings and 3-D models, click on a part number.