Low-Profile

Fixture Clamps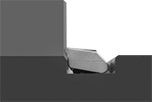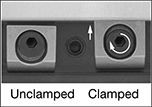 Blunt Edge

Knife Edge
Install these clamps into a slot in your fixture to grip at the bottom of workpiece edges, giving the cutting tool maximum access to your workpiece. Thread the clamp into a tapped hole and give the center screw a half turn for quick clamping.
Blunt edge is less likely to mar your workpiece. Knife edge bites into your workpiece for faster and more aggressive machining.
Clamps with brass heads are nonmarring when used with steel and aluminum workpieces.
For technical drawings and 3-D models, click on a part number.
Each
Lg.

Wd.

Ht.

Max.


Movement

Max.


Clamping


Force,

lbs.

Min.


Workpiece
Contact
For
Slot


Dp.

Size

Lg.

Size
Style
Head
Material
Screw
Material
Each

Blunt Edge

3/8

"

3/8

"

7/32

"
0.008"
200
0.075"
0.14"
4-40

7/32

"

1/16

"
Hex

Brass
Steel
0000000
000000

3/8

"

3/8

"

7/32

"
0.008"
650
0.075"
0.14"
4-40

1/4

"

3/32

"
Hex

Steel
Steel
0000000
00000

1/2

"

1/2

"

9/32

"
0.016"
400
0.1"
0.187"
8-32

11/32

"

3/32

"
Hex

Brass
Steel
0000000
00000

1/2

"

1/2

"

9/32

"
0.016"
1,500
0.1"
0.187"
8-32

3/8

"

9/64

"
Hex

Steel
Steel
0000000
00000

3/4

"

3/4

"

7/16

"
0.024"
950
0.15"
0.28"

1/4

"-20

7/16

"

5/32

"
Hex

Brass
Steel
0000000
00000

3/4

"

3/4

"

7/16

"
0.024"
3,600
0.15"
0.28"

1/4

"-20

9/16

"

3/16

"
Hex

Steel
Steel
0000000
00000
1"
1"

11/16

"
0.05"
6,000
0.25"
0.45"

3/8

"-16

23/32

"

5/16

"
Hex

Steel
Steel
0000000
00000
1

1/2

"
1

1/2

"
1"
0.075"
12,000
0.375"
0.64"

1/2

"-13

25/32

"

3/8

"
Hex

Steel
Steel
0000000
00000

Knife Edge

3/8

"

3/8

"

7/32

"
0.008"
650
0.075"
0.14"
4-40

1/4

"

3/32

"
Hex

Steel
Steel
0000000
00000

1/2

"

1/2

"

9/32

"
0.016"
1,500
0.1"
0.187"
8-32

3/8

"

9/64

"
Hex

Steel
Steel
0000000
00000

3/4

"

3/4

"

7/16

"
0.024"
3,600
0.15"
0.28"

1/4

"-20

9/16

"

3/16

"
Hex

Steel
Steel
0000000
00000
1"
1"

11/16

"
0.05"
6,000
0.25"
0.45"

3/8

"-16

23/32

"

5/16

"
Hex

Steel
Steel
0000000
00000
1

1/2

"
1

1/2

"
1"
0.075"
12,000
0.375"
0.64"

1/2

"-13

25/32

"

3/8

"
Hex

Steel
Steel
0000000
00000
Package
Lg.

Wd.

Ht.

Max.


Movement

Max.


Clamping


Force,

lbs.

Min.


Workpiece
Contact
For
Slot


Dp.

Size

Lg.

Size
Style
Head
Material
Screw
Material

Pkg.




Qty.

Pkg.

Blunt Edge

3/8

"

3/8

"

7/32

"
0.008"
200
0.075"
0.14"
4-40

7/32

"

1/16

"
Hex

Brass
Steel
8
0000000
000000

3/8

"

3/8

"

7/32

"
0.008"
650
0.075"
0.14"
4-40

1/4

"

3/32

"
Hex

Steel
Steel
8
0000000
00000

1/2

"

1/2

"

9/32

"
0.016"
400
0.1"
0.187"
8-32

11/32

"

3/32

"
Hex

Brass
Steel
8
0000000
00000

1/2

"

1/2

"

9/32

"
0.016"
1,500
0.1"
0.187"
8-32

3/8

"

9/64

"
Hex

Steel
Steel
8
0000000
00000

3/4

"

3/4

"

7/16

"
0.024"
950
0.15"
0.28"

1/4

"-20

7/16

"

5/32

"
Hex

Brass
Steel
6
0000000
00000

3/4

"

3/4

"

7/16

"
0.024"
3,600
0.15"
0.28"

1/4

"-20

9/16

"

3/16

"
Hex

Steel
Steel
6
0000000
00000
1"
1"

11/16

"
0.05"
6,000
0.25"
0.45"

3/8

"-16

23/32

"

5/16

"
Hex

Steel
Steel
4
0000000
00000
1

1/2

"
1

1/2

"
1"
0.075"
12,000
0.375"
0.64"

1/2

"-13

25/32

"

3/8

"
Hex

Steel
Steel
2
0000000
00000

Knife Edge

3/8

"

3/8

"

7/32

"
0.008"
650
0.075"
0.14"
4-40

1/4

"

3/32

"
Hex

Steel
Steel
8
0000000
00000

1/2

"

1/2

"

9/32

"
0.016"
1,500
0.1"
0.187"
8-32

3/8

"

9/64

"
Hex

Steel
Steel
8
0000000
00000

3/4

"

3/4

"

7/16

"
0.024"
3,600
0.15"
0.28"

1/4

"-20

9/16

"

3/16

"
Hex

Steel
Steel
6
0000000
00000
1"
1"

11/16

"
0.05"
6,000
0.25"
0.45"

3/8

"-16

23/32

"

5/16

"
Hex

Steel
Steel
4
0000000
00000
1

1/2

"
1

1/2

"
1"
0.075"
12,000
0.375"
0.64"

1/2

"-13

25/32

"

3/8

"
Hex

Steel
Steel
2
0000000
00000
Each
Lg.,


mm

Wd.,


mm

Ht.,


mm

Max.




Movement,


mm

Max.


Clamping


Force,

lbs.

Min.


Workpiece


Contact,

mm
For Slot


Dp.,


mm
Size

Lg.,


mm
Size
Style
Head
Material
Screw
Material
Each

Blunt Edge

9.52
9.52
5.5
0.19
625
1.9
3.55
M2.5

6.6
2 mm
Hex

Steel
Steel
0000000
000000
12.7
12.7
7.3
0.406
1,480
2.54
4.75
M4

9.9
3 mm
Hex

Steel
Steel
0000000
00000
19.05
19.05
10.9
0.61
3,590
3.81
7.11
M6

14.48
5 mm
Hex

Steel
Steel
0000000
00000
25.4
25.4
17.8
1.27
5,845
6.35
11.43
M10

18.03
8 mm
Hex

Steel
Steel
0000000
00000
38.1
38.1
25.8
1.9
11,240
9.52
16.26
M12

19.56
10 mm
Hex

Steel
Steel
0000000
00000
Package
Lg.,


mm

Wd.,


mm

Ht.,


mm

Max.




Movement,


mm

Max.


Clamping


Force,

lbs.

Min.


Workpiece


Contact,

mm
For Slot


Dp.,


mm
Size

Lg.,


mm
Size
Style
Head
Material
Screw
Material

Pkg.




Qty.

Pkg.

Blunt Edge

9.52
9.52
5.5
0.19
625
1.9
3.55
M2.5

6.6
2 mm
Hex

Steel
Steel
8
0000000
000000
12.7
12.7
7.3
0.406
1,480
2.54
4.75
M4

9.9
3 mm
Hex

Steel
Steel
8
0000000
00000
19.05
19.05
10.9
0.61
3,590
3.81
7.11
M6

14.48
5 mm
Hex

Steel
Steel
6
0000000
00000
25.4
25.4
17.8
1.27
5,845
6.35
11.43
M10

18.03
8 mm
Hex

Steel
Steel
4
0000000
00000
38.1
38.1
25.8
1.9
11,240
9.52
16.26
M12

19.56
10 mm
Hex

Steel
Steel
2
0000000
00000