Speed Reducers for
Position-

and

Speed-Control

Motors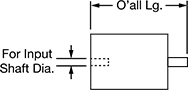 Pair these speed reducers with stepper and servo motors in position- and speed-control applications. Helical gears provide exact positioning and smoother travel than our other speed reducers. Attach to a motor to transmit motion parallel to the motor shaft while reducing speed and increasing torque. They meet IP65 for protection from washdowns.
Radial loads are loads that are perpendicular to the shaft. They're commonly caused by components attached to shaft, such as pulleys and sprockets.
For technical drawings and 3-D models, click on a part number.
Speed
Ratio
Torque

Speed,


rpm

Speed,


rpm
hp
For Input
Shaft


Dia.

Dia.

Lg.

Lg.

Wd.

Ht.

Radial Load


Capacity,




lbs.

Environmental
Rating
Each

For NEMA 23 Motor

3:1
240 in.-lbs. @ 1,750 rpm
2,000
6,000
2.89

1/4

"
0.38"
1"
4

1/2

"
2

1/2

"
2

1/2

"
348
IP65

00000000
0000000
5:1
345 in.-lbs. @ 1,750 rpm
1,200
6,000
3.24

1/4

"
0.38"
1"
4

1/2

"
2

1/2

"
2

1/2

"
348
IP65

00000000
000000
10:1
265 in.-lbs. @ 1,750 rpm
600
6,000
1.45

1/4

"
0.38"
1"
4

1/2

"
2

1/2

"
2

1/2

"
348
IP65

00000000
000000
20:1
345 in.-lbs. @ 1,750 rpm
300
6,000
1.08

1/4

"
0.38"
1"
5

3/4

"
2

1/2

"
2

1/2

"
348
IP65

00000000
00000000
50:1
345 in.-lbs. @ 1,750 rpm
120
6,000
0.46

1/4

"
0.38"
1"
5

3/4

"
2

1/2

"
2

1/2

"
348
IP65

00000000
00000000

For NEMA 34 Motor

3:1
743 in.-lbs. @ 1,750 rpm
1,833
5,500
6.75

1/2

"

1/2

"
1.25"
5

1/4

"
3

1/2

"
3

1/2

"
630
IP65

00000000
00000000
5:1
867 in.-lbs. @ 1,750 rpm
1,100
5,500
5.73

1/2

"

1/2

"
1.25"
5

1/4

"
3

1/2

"
3

1/2

"
630
IP65

00000000
00000000
10:1
797 in.-lbs. @ 1,750 rpm
550
5,500
3.04

1/2

"

1/2

"
1.25"
5

1/4

"
3

1/2

"
3

1/2

"
630
IP65

00000000
00000000
20:1
867 in.-lbs. @ 1,750 rpm
275
5,500
1.97

1/2

"

1/2

"
1.25"
7"
3

1/2

"
3

1/2

"
630
IP65

00000000
00000000
50:1
867 in.-lbs. @ 1,750 rpm
110
5,500
0.87

1/2

"

1/2

"
1.25"
7"
3

1/2

"
3

1/2

"
630
IP65

00000000
00000000