Your email has been sent.
From


Thanks. We appreciate your comments.
Page 3890
About Plastic
People often choose plastic over metal and glass because it's lightweight, strong, and corrosion resistant; however, most plastic formulations have additional properties that enhance performance. For example, some plastics offer excellent chemical resistance, while others excel in absorbing shock or are slippery and wear resistant. The easiest way to find the best plastic for your application is to focus on the attributes that are most important to you.
Composites, also called plastic laminates, are stronger and more rigid than plastic, yet they cannot be bent or formed. For more information, see About Composites.
Tensile Strength is the best measure of a plastic's overall strength. Technically speaking, it is the maximum pulling force a material can withstand without breaking. The higher the value, the stronger the material. Plastics rated 5,000 psi or higher, such as PVC and acrylic, offer good strength; however, those rated over 12,000 psi, such as PEEK and Ultem PEI, are the strongest.
Impact strength is how much shock a plastic can absorb without cracking or breaking. The higher the value, the stronger the material; however, some plastics are so strong they are rated "no break." Plastics rated between 2 and 5 ft.-lbs./in., such as PVDF and PTFE, have good impact strength. Choose a plastic rated "no break" or with a value higher than 5 ft.-lbs./in., such as polycarbonate and ABS, to make machine guards, protective cases, and other things that need to absorb shock.
Machinability indicates how well a plastic stands up to machining when compared to acetal. Acetal is the easiest plastic to machine, offering the fastest cutting speeds and the smoothest finishes. If a plastic has a machinability value of 50%, it means that material is only half as easy to machine as acetal.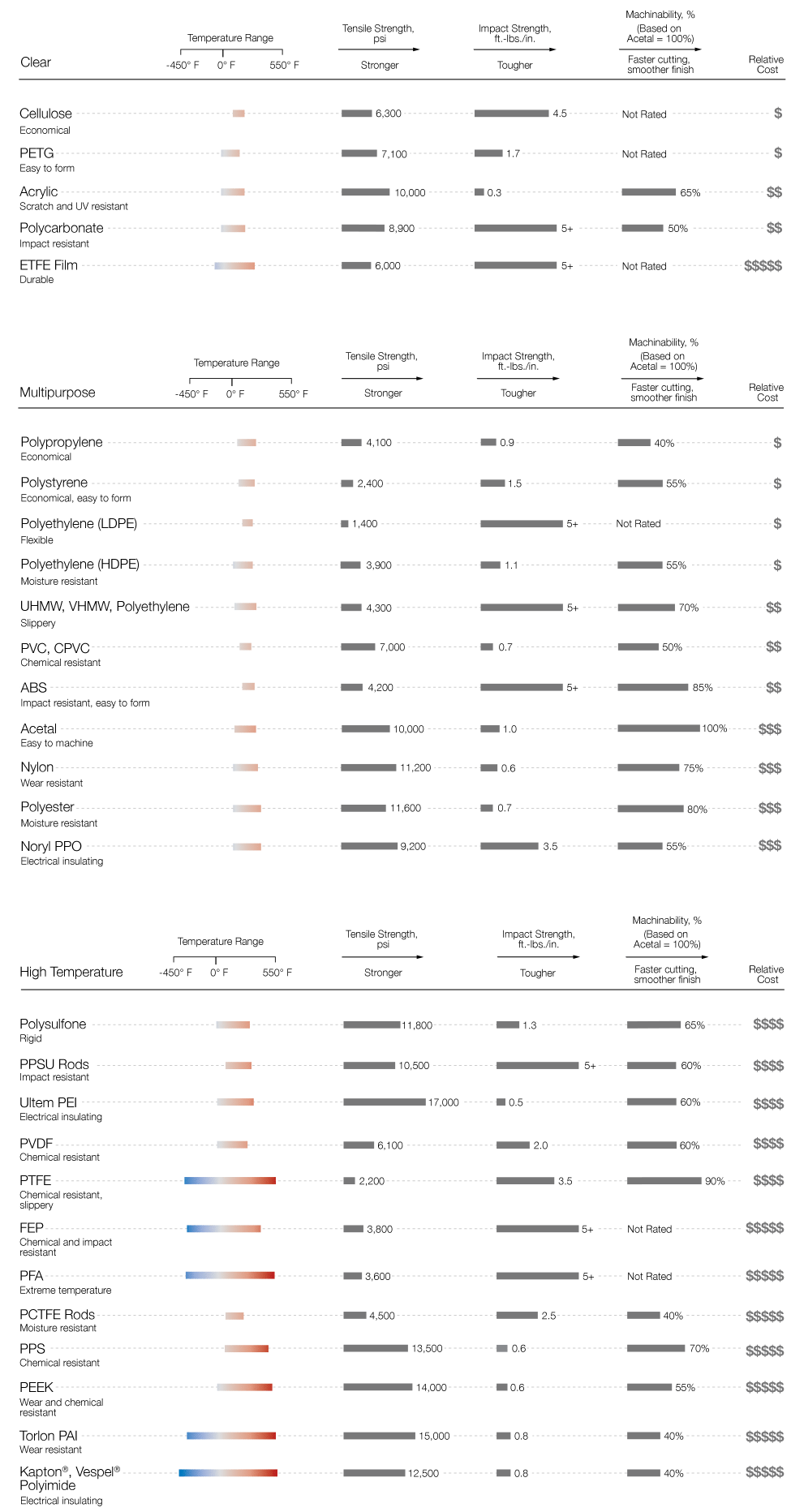 Other Attributes to Consider
Clarity is an indicator of how easy it is to see through plastic. Often clarity doesn't matter; however, there are some applications that require excellent visibility and other applications that require no light penetration at all.
For clear plastic, we've provided a light transmission value, which expresses how much light can pass through. The higher the percentage, the clearer the plastic. Plastic with a light transmission value of 90% or higher is considered optically clear. Acrylic has a value of 92% and is one of the clearest plastics available; however, there are films that are slightly clearer, such as PFA and ETFE.

Clear

—
You can see through the
plastic.

Semi

-

Clear

—
You can see with a blurred
view.

Opaque

—
You cannot see through the
plastic.
Coefficient of friction is important when you need a slippery surface, such as for gears and conveyors where friction could slow down an operation. The lower the coefficient of friction, the more slippery the plastic. PTFE is known for being the most slippery plastic with a value that's <0.3; however, nylon, acetal, and UHMW are all slippery plastics with a value between 0.3 and 0.5.
Coefficient of thermal expansion expresses how much a plastic will expand as the temperature rises. Plastics with a lower value are more thermally stable; they maintain their shape better when heated, so they're easier to machine into tight-tolerance parts than those with a higher value. An excellent value would be ≤3 in./in./°F, while a poor value would be ≥7 in./in./°F. Plastics with the lowest thermal expansion include acetal and polyester.
Dielectric strength measures how effective a material is at insulating against electricity. While all plastic provides some electrical insulation, the ones with a higher dielectric strength are better electrical insulators. Plastics with a dielectric strength of 300 to 499 volts/mil are good electrical insulators, while those with a value of 500 volts/mil or higher are excellent electrical insulators. The best electrical insulators are UHMW, PFA, and ETFE.
Fabrication is how the plastic was made. While not usually a choice, some materials (such as acrylic) are available as both extruded and cast. Extruded plastics are furnished with tighter tolerances, while cast plastics are easier to machine. Less common fabrication methods include molded, skived, calendered, and laminated.
Flexural modulus is a general indicator of flexibility. The higher the psi, the more rigid the plastic, and the harder it is to bend.

Flexible
plastic has a flexural modulus of
<200,
000
psi.

Semi
-
rigid
plastic has a
flexural modulus that ranges
from
200,000 to 1,000,
000
psi.

Rigid
plastic has a flexural modulus of
>1,000,
000
psi.
Hardness should not be confused with strength. Hardness simply indicates how well a material resists permanent indentation. Plastic hardness is measured on a durometer (Shore) scale or a Rockwell scale. The scales have some overlap; therefore, if a plastic has a hardness rating of Shore 60D, it is the same hardness as those rated Rockwell R50.

Water absorption indicates how much water may be absorbed by the plastic, which is important because this could cause swelling. When machining close-tolerance parts or using outdoors, a plastic with a lower percentage of water absorption will render better results. A plastic with excellent resistance to water absorption will have a value that's ≤0.05%, while a poor value would be >0.25%. Plastics that are most resistant to absorbing water include acetal, PTFE, polyester, UHMW, PVDF, and Ultem PEI.