Ultra-High-Temperature

Carbon Fiber Sheets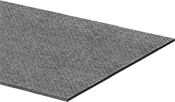 Color:

Black
Maximum

Temperature:

5,000° F

Tensile

Strength:

11,

000 psi

(Good)

Impact

Strength:

Not Rated

Hardness:

Not Rated

For Use

Outdoors:

No
Unlike metal sheets, these carbon fiber sheets won't warp at extreme temperatures, so they're ideal for heat treating and furnace fixtures. They are lightweight with an excellent strength-to-weight ratio and the material heats up quickly to reduce cycle times.
For technical drawings and 3-D models, click on a part number.
Flexible Aramid Honeycomb Cores

Color:

Orange
Temperature

Range:

-100° to 350° F

Yield

Strength:

Not Rated

For Use

Outdoors:

No
As a strong, lightweight, and buoyant alternative to solid panels, these aramid honeycomb cores are used to make interior wall panels and floor boards in marine, structural, and industrial applications. Compared to aluminum honeycomb cores, they're lightweight and more flexible, so you'll often find them lining boats and high-speed cars. However, they're not as strong as aluminum cores. Aramid cores also resist flames, self-extinguish without melting or dripping, and are thermal and electrical insulators. Aramid is commonly known as Nomex.
Thickness
Thickness
Tolerance
Honeycomb
Cell Size
Maximum Load


Capacity,

lbs./sq.

in.

12"




× 12"

24"




× 24"

24"




× 48"

48"




× 48"

50"




× 100"

0.085"
-0.006" to 0.006"
0.125"
300
00000000
0.21"
-0.006" to 0.006"
0.125"
300
0000000
0.335"
-0.006" to 0.006"
0.125"
300
0000000
0.46"
-0.006" to 0.006"
0.125"
300
0000000