High-Temperature

Moisture-Resistant

Polyester Film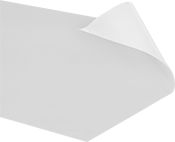 Often used as a separator when heating parts in an oven, this wear-resistant film can also protect surfaces when etching or sanding. Also called PET and PETE, polyester resists swelling when exposed to moisture. When used as a separator, film should be cut larger than the piece it is being released from.
Film with a smooth texture releases cleanly from rubber and most synthetic resins. This film is skived, so the edges may curl.
Color:

Semi-Clear White

Max.

Temperature:

400° F

Tensile

Strength:

25,

000 psi

(Excellent)

Impact

Strength:

0.

24

ft.

-

lbs./in.

(Poor)

Hardness:

Rockwell

M94-M101

(Hard)

For Use

Outdoors:

No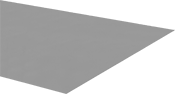 This shim stock is color-coded by thickness for easy identification. Cut it into custom shapes to fit your application. Shim stock is corrosion resistant. Sheets come flat packed.
Plastic shim stock works well in light duty applications. It's easier to cut than aluminum stock.
For technical drawings and 3-D models, click on a part number.
Thick.

Thick.

Tolerance
Color
Material

Max.




Temperature,

°F

Each

Roll

0.0015"
-0.0002" to 0.0002"
Purple
Polyester Plastic
200°
0000000
000000

Sheet

0.0015"
-0.0002" to 0.0002"
Purple
Polyester Plastic
200°
0000000
0000
0.0015"
-0.0002" to 0.0002"
Purple
Polyester Plastic
200°
0000000
0000
0.0015"
-0.0002" to 0.0002"
Purple
Polyester Plastic
200°
00000000
0000
0.0015"
-0.0002" to 0.0002"
Purple
Polyester Plastic
200°
0000000
0000
0.0015"
-0.0002" to 0.0002"
Purple
Polyester Plastic
200°
00000000
00000