Chemical-Resistant

Slippery PTFE Film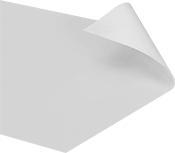 PTFE has a naturally slippery surface that allows objects to easily slide across it. It resists most solvents and stands up to extreme temperatures. It's also an excellent electrical insulator.
Film with a coarse texture masks scratches, scuffs, and fingerprints.
For technical drawings and 3-D models, click on a part number.
Color:

Semi-Clear White
Temperature

Range:

-350° to 500° F

Tensile

Strength:

4,

500 psi

(Poor)

Impact

Strength:

3.

5

ft.

-

lbs./in.

(Good)

Hardness:

Durometer

46D-60D

(Medium

Soft)

For Use

Outdoors:

Yes
Specifications

Met:

FDA Compliant 21 CFR

177.1550,

FDA Compliant 21 CFR

178.3297,

UL 94 V-0
Composite Fabrics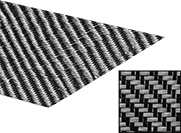 Twill Weave
Use these resin-free fabrics to reinforce or repair existing composites as well as create new composites. Mold custom-shaped composite parts by layering your choice of fabric with an epoxy. The epoxy (sold separately) is a two-part resin that begins to harden in 15 hours and reaches full strength in 4 days. Finished composite pieces withstand temperatures up to 250° or 350° F.
Fabrics with a plain, twill, or triaxial weave have fibers that are woven in alternating directions for uniform strength and rigidity in all directions. Easier to machine than fabrics with a unidirectional weave, their woven pattern holds the fibers together to limit splintering. Twill-weave fabrics are stronger than plain-weave fabrics. They're also more flexible, making them easier to manipulate into complex shapes. They will not, however, retain their shape as well as plain-weave fabrics.
Fiberglass fabrics are strong and offer a little flex to finished custom composite parts.
For technical drawings and 3-D models, click on a part number.