Composite Fabrics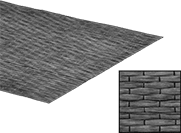 Unidirectional Weave
Use these resin-free fabrics to reinforce or repair existing composites as well as create new composites. Mold custom-shaped composite parts by layering your choice of fabric with an epoxy. The epoxy (sold separately) is a two-part resin that begins to harden in 15 hours and reaches full strength in 4 days. Finished composite pieces withstand temperatures up to 250° or 350° F.
Fabrics with a unidirectional weave have most of their fibers running in one direction. This weave is preferred when making tubular parts, such as vehicle frames, where linear strength and rigidity are required. Often referred to as nonwoven fabrics, these fabrics are best for reinforcing applications. However, they're hard to machine because they may splinter.
Carbon-fiber fabrics have the highest strength of all our composite fabrics.
For technical drawings and 3-D models, click on a part number.
Print Surfaces for 3D Printers


Also known as build sheets, stick these sheets to your printer bed for more accurate 3D printed parts than those made on bare printer beds, masking tape, and glue. They won't transfer heat between your part and printer bed, which means they grip your part as it prints to keep it from shifting. Then they easily release the part without damaging it once it's cooled. Because they're insulating, they also protect glass printer beds from cracking due to sudden temperature changes, so you won't need to replace the bed as often. You can reuse these sheets multiple times, since they're durable and stand up to heat.
Use these sheets with fused filament fabrication (FFF) 3D printers. Cut them to size with scissors before sticking them to your printer bed. For large print surfaces, use primer and smoothing tools (both sold separately) to remove wrinkles and trapped air bubbles.
Plastic-blend print surfaces have a stronger hold than PEI print surfaces, so they're good for polycarbonate and other filaments that are prone to warping. But, this makes them difficult for removing some polyester-based filaments. Since they're coarse, they leave a textured finish on the bottom of your part.
PEI print surfaces don't grip as tightly as plastic-blend print surfaces, making them easier for removing sticky filaments, such as PETG. They also last longer. Their smooth exterior leaves a smooth finish on the bottom of your part.
Lg.

Wd.

Thick.

For Printer
Bed

Temp.

Color
Each

Plastic

Blend—

For Heated and Unheated Printer Beds

4

1/2

"
4

1/2

"
0.014"
21° to 120° C
70° to 248° F
Black
0000000
00000
6

5/16

"
5

1/8

"
0.014"
21° to 120° C
70° to 248° F
Black
0000000
0000
6

1/2

"
6

1/2

"
0.014"
21° to 120° C
70° to 248° F
Black
0000000
0000
8"
8"
0.014"
21° to 120° C
70° to 248° F
Black
0000000
00000
8

7/8

"
8

7/8

"
0.014"
21° to 120° C
70° to 248° F
Black
0000000
00000
9

1/4

"
6

1/4

"
0.014"
21° to 120° C
70° to 248° F
Black
0000000
00000
10"
6

1/2

"
0.014"
21° to 120° C
70° to 248° F
Black
0000000
00000
10"
8"
0.014"
21° to 120° C
70° to 248° F
Black
0000000
00000
10"
9"
0.014"
21° to 120° C
70° to 248° F
Black
000000
00000
10"
9

1/2

"
0.014"
21° to 120° C
70° to 248° F
Black
0000000
00000
10"
10"
0.014"
21° to 120° C
70° to 248° F
Black
0000000
00000
11

1/2

"
6

1/2

"
0.014"
21° to 120° C
70° to 248° F
Black
0000000
00000
12"
12"
0.014"
21° to 120° C
70° to 248° F
Black
0000000
00000
16"
16"
0.014"
21° to 120° C
70° to 248° F
Black
0000000
00000
19

7/8

"
19

7/8

"
0.014"
21° to 150° C
70° to 302° F
Black
0000000
00000

PEI

Plastic—

For Heated and Unheated Printer Beds

6

5/16

"
5

1/8

"
0.014"
21° to 150° C
70° to 302° F
Amber
0000000
0000
6

1/2

"
6

1/2

"
0.014"
21° to 150° C
70° to 302° F
Amber
0000000
00000
8"
8"
0.014"
21° to 150° C
70° to 302° F
Amber
0000000
00000
8

7/8

"
8

7/8

"
0.014"
21° to 150° C
70° to 302° F
Amber
0000000
00000
9

1/4

"
6

1/4

"
0.014"
21° to 150° C
70° to 302° F
Amber
0000000
00000
10"
6

1/2

"
0.014"
21° to 150° C
70° to 302° F
Amber
000000
00000
10"
8"
0.014"
21° to 150° C
70° to 302° F
Amber
0000000
00000
10"
9"
0.014"
21° to 150° C
70° to 302° F
Amber
0000000
00000
10"
9

1/2

"
0.014"
21° to 150° C
70° to 302° F
Amber
0000000
00000
10"
10"
0.014"
21° to 150° C
70° to 302° F
Amber
0000000
00000
12"
12"
0.014"
21° to 150° C
70° to 302° F
Amber
0000000
00000
16"
16"
0.014"
21° to 150° C
70° to 302° F
Amber
0000000
00000
19

7/8

"
19

7/8

"
0.014"
21° to 150° C
70° to 302° F
Amber
0000000
00000