Chemical-Resistant

Slippery Sheets and Bars Made from Teflon® PTFE
Made with virgin Teflon® PTFE resins, these sheets and bars surpass most plastics when it comes to chemical resistance and performance in extreme temperatures. In addition to resisting most solvents, they are excellent electrical insulators. They're easy to machine and have a naturally slippery surface that makes them a good choice for bearings, gears, and parts that slide and roll.
For technical drawings and 3-D models, click on a part number.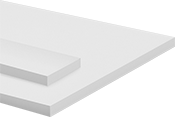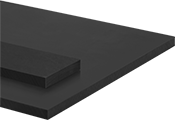 Color:

White or Black
Temperature

Range:

-350° to 500° F

Tensile

Strength:

2,170-2,

800 psi

(Poor)

Impact

Strength:

3.

5

ft.

-

lbs./in.

(Good)

Hardness:

Durometer

52D-55D

(Medium

Soft)

For Use

Outdoors:

Yes
Specifications

Met:

See Table
Thick.

Thick.

Tolerance
Fabrication
Specifications Met
Each

White

0.039"
-0.004" to 0.004"
Skived
ASTM D3308, FDA Compliant 21 CFR 177.1550, UL 94 V-0
0000000
000000
0.039"
-0.004" to 0.004"
Skived
ASTM D3308, FDA Compliant 21 CFR 177.1550, UL 94 V-0
00000000
00000
0.039"
-0.004" to 0.004"
Skived
ASTM D3308, FDA Compliant 21 CFR 177.1550, UL 94 V-0
00000000
00000
0.039"
-0.004" to 0.004"
Skived
ASTM D3308, FDA Compliant 21 CFR 177.1550, UL 94 V-0
00000000
00000
0.039"
-0.004" to 0.004"
Skived
ASTM D3308, FDA Compliant 21 CFR 177.1550, UL 94 V-0
00000000
000000
0.039"
-0.004" to 0.004"
Skived
ASTM D3308, FDA Compliant 21 CFR 177.1550, UL 94 V-0
00000000
000000
0.039"
-0.004" to 0.004"
Skived
ASTM D3308, FDA Compliant 21 CFR 177.1550, UL 94 V-0
00000000
000000
0.039"
-0.004" to 0.004"
Skived
ASTM D3308, FDA Compliant 21 CFR 177.1550, UL 94 V-0
00000000
000000
0.039"
-0.004" to 0.004"
Skived
ASTM D3308, FDA Compliant 21 CFR 177.1550, UL 94 V-0
00000000
000000
0.039"
-0.004" to 0.004"
Skived
ASTM D3308, FDA Compliant 21 CFR 177.1550, UL 94 V-0
00000000
000000

Black

0.039"
-0.004" to 0.004"
Skived
ASTM D3308, FDA Compliant 21 CFR 177.1550, UL 94 V-0
00000000
00000
0.039"
-0.004" to 0.004"
Skived
ASTM D3308, FDA Compliant 21 CFR 177.1550, UL 94 V-0
00000000
00000
0.039"
-0.004" to 0.004"
Skived
ASTM D3308, FDA Compliant 21 CFR 177.1550, UL 94 V-0
00000000
00000
0.039"
-0.004" to 0.004"
Skived
ASTM D3308, FDA Compliant 21 CFR 177.1550, UL 94 V-0
00000000
000000
0.039"
-0.004" to 0.004"
Skived
ASTM D3308, FDA Compliant 21 CFR 177.1550, UL 94 V-0
00000000
000000
0.039"
-0.004" to 0.004"
Skived
ASTM D3308, FDA Compliant 21 CFR 177.1550, UL 94 V-0
00000000
000000
0.039"
-0.004" to 0.004"
Skived
ASTM D3308, FDA Compliant 21 CFR 177.1550, UL 94 V-0
00000000
000000
0.039"
-0.004" to 0.004"
Skived
ASTM D3308, FDA Compliant 21 CFR 177.1550, UL 94 V-0
00000000
000000
0.039"
-0.004" to 0.004"
Skived
ASTM D3308, FDA Compliant 21 CFR 177.1550, UL 94 V-0
00000000
000000
0.039"
-0.004" to 0.004"
Skived
ASTM D3308, FDA Compliant 21 CFR 177.1550, UL 94 V-0
00000000
000000