Polypropylene Film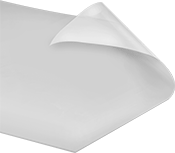 Color:

Natural
Maximum

Temperature:

200° F

Tensile

Strength:

4,

000 psi

(Poor)

Impact

Strength:

Not Rated

Hardness:

Rockwell R69

(Medium)

For Use

Outdoors:

Yes
Specifications

Met:

FDA Compliant 21 CFR

177.1520,

UL 94 HB
Package food, textiles, and other products in wet environments. This film won't absorb or swell from water. It's also FDA compliant, so it's safe to directly touch food. This film keeps its shape at room temperature. When heated, it softens evenly and won't warp, making it a good choice for heat sealing and applications that involve shaping with pressure and heat.
Thickness
Thickness Tolerance
Each
0.045"
-0.0045" to 0.0045"
00000000
000000
Electrically Insulating Hard Fiber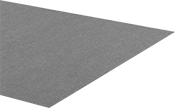 Color:

Gray

Max.

Temperature:

235° F

Tensile

Strength:

See Table

Impact

Strength:

2.

5

ft.

-

lbs./in.

(Good)

Hardness:

Rockwell R70

(Hard)

For Use

Outdoors:

No
Specifications

Met:

MIL-I-

695,

UL 94 HB
Widely known as fishpaper and vulcanized fiber, these thin sheets offer better electrical insulation than standard hard fiber sheets. They are constructed from lightweight cotton fabric that's been chemically treated to make it hard and dense.
For technical drawings and 3-D models, click on a part number.