Ultra-Strength

Lightweight Carbon Fiber Sheets and Bars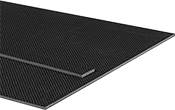 Color:

Black
Temperature

Range:

See table

Tensile

Strength:

120,000-175,

000 psi

(Excellent)

Fiber Tensile

Stiffness:

Standard

(33-36

msi)

Impact

Strength:

Not Rated

Hardness:

Not Rated

For Use

Outdoors:

No
Made of the strongest composite we offer, these carbon fiber sheets, bars, and strips are often used to build frames and structures. Carbon fiber is comparable in strength to 6061 aluminum yet lighter in weight.
For technical drawings and 3-D models, click on a part number.
Thick.

Thick.

Tolerance

Wd.

Lg.

Temperature


Range,

° F

Each
0.07"
-0.005" to 0.005"
0.437"
48"
-100° to 180°
0000000
000000
Fiberglass Fabric Sheets and Strips

Resistant to rot and mildew, this fiberglass fabric combines good temperature and chemical resistance. It is commonly used as curtains and in sealing applications.