Plastic Welding Kits
Use hot compressed air to weld plastics.
Kits for nitrogen gas can be used when welding polyethylene or polypropylene to prevent possible oxidation (air bubbles).
Optional high-speed tips heat the welding rod and the materials being welded at the same time to make fast, uniform welds.
Hot-Air

Gun Plastic Welding Kits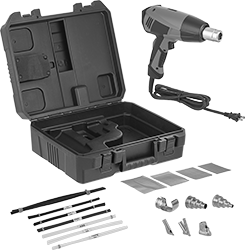 No compressor needed—a hot-air gun welds your plastics.
For
Rod


Dia.

Input
Voltage
Wattage
Air Flow


Rate,


cfm
Temperature


Range,




°F

Temp.


Control


Increment,

° F

Cord


Lg.,




ft.

Plug
Type
Features
Includes
Each

1/8

",

5/32

",

3/16

",

7/32

",

1/4

"
120V AC
1,560W
4-18
75° to 1200°
10°
6
Two Prong
Bluetooth
High-Speed Tip for Rods Up to

1/4

" Diameter
Tip for Tack Welds


3/8

" Reducer for Attaching Tips


5/8

" Reducer for Concentrated Airflow
1 Welding Iron for

3/8

" Reducer
1

1/4

" Shrink Attachment for Tubing and Pipe
4 Pieces of 4" x 3" Stainless Steel Wire Mesh Screens
6 Pieces of

1/8

" Diameter × 9" Long ABS Plastic Rod
6 Pieces of

1/8

" Diameter × 9" Long HDPE Plastic Rod
6 Pieces of

1/8

" Diameter × 9" Long LDPE Plastic Rod
6 Pieces of

1/8

" Diameter × 9" Long Polypropylene Plastic Rod
6 Pieces of

1/8

" Diameter × 9" Long PVC Plastic Rod
6 Pieces of

3/16

" Diameter x 12" Long Fiber-Flex Rods
Plastic Carrying Case
0000000
0000000