Communication Modules for Programmable Logic Controllers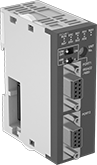 Processor Socket Mount
Connect and communicate with multiple automation devices simultaneously, such as HMIs, motor speed controls, supervisory PCs, and additional PLC racks. These modules allow several systems to talk to one another—within your facility and beyond—letting you expand your automated processes over numerous interconnected networks. Choose a module that supports the communication protocol of the systems and equipment you're connecting to.
Rated IP20, these modules prevent fingers and other objects greater than 12.5 mm from making contact with live circuits. They're also UL and C-UL listed, CE marked, and CSA certified to meet various domestic and international safety standards.
DIN rail-mount modules attach conveniently to other modules on your PLC rack.
Processer socket-mount modules plug in directly to the front of your corresponding processor, so they won't take up any additional space on your DIN rail.
Modules with remote input/output compatibility can transmit data between sensors and actuators without long runs of cable for each device. Mount them in your control room, and communicate with automated equipment hooked up far away.
For technical drawings and 3-D models, click on a part number.
Communication
Protocol
For
Manufacturer
Series
Industry
Designation


(No. of)

Computer
Ethernet
Wire
Connection
Type
Transmission
Speed
Features
Each

Omron

DIN Rail Mounting Location

1:N NT Link
CompoWay/F
Host Link
Modbus ASCII
Modbus RTU
Protocol Macro
User Defined
CJ1
CJ2
CP1H (Requires CP1W-EXT01 Adapter)
NSJ (Requires Expansion Backplane)
RS-232C (2)
DB9
__
__
4.8 kbps @ 49 ft.
9.6 kbps @ 49 ft.
19.2 kbps @ 49 ft.
2.4 kbps @ 49 ft.
__
0000000
0000000
1:N NT Link
CompoWay/F
Host Link
Modbus ASCII
Modbus RTU
Protocol Macro
User Defined
CJ1
CJ2
CP1H (Requires CP1W-EXT01 Adapter)
NSJ (Requires Expansion Backplane)
RS-422A/RS-485 (2)
DB9
__
__
4.8 kbps @ 49 ft.
9.6 kbps @ 49 ft.
19.2 kbps @ 49 ft.
2.4 kbps @ 49 ft.
__
0000000
000000
1:N NT Link
CompoWay/F
Host Link
Modbus ASCII
Modbus RTU
Protocol Macro
User Defined
CJ1
CJ2
CP1H (Requires CP1W-EXT01 Adapter)
NSJ (Requires Expansion Backplane)
RS-232C (1); RS-422A/RS-485 (1)
DB9
__
__
4.8 kbps @ 49 ft.
9.6 kbps @ 49 ft.
19.2 kbps @ 49 ft.
2.4 kbps @ 49 ft.
__
0000000
000000
FINS TCP/IP
FINS UDP/IP
FTP
SMTP
TCP/IP
UDP/IP
CJ1
CJ2
CP1H (Requires CP1W-EXT01 Adapter)
NSJ (Requires Expansion Backplane)
10 Base-T/100 Base-Tx (1)
__
RJ45
__
100 Mbps @ 328 ft.
__
0000000
00000000
CIP
Ethernet/IP
FINS TCP/IP
FINS UDP/IP
CJ1
CJ2
CP1H (Requires CP1W-EXT01 Adapter)
NJ
NSJ (Requires Expansion Backplane)
100 Base-Tx (1)
__
RJ45
__
100 Mbps @ 328 ft.
__
0000000
00000000
Controller Link
CJ1
CJ2
CP1H (Requires CP1W-EXT01 Adapter)
NSJ (Requires Expansion Backplane)
__
__
__
Screw Terminals
0.5 Mbps @ 3,280 ft.
1 Mbps @ 2,624 ft.
2 Mbps @ 1,640 ft.
__
0000000
00000000
DeviceNet
CJ1
CJ2
CAN (1)
__
__
Screw Terminals
0.125 Mbps @ 1,640 ft.
0.25 Mbps @ 820 ft.
0.5 Mbps @ 328 ft.
Remote Input/Output Compatibility
0000000
00000000
Profibus DP
CJ1
CJ2
RS-485 (1)
DB9
__
__
38.4 kbps @ 1,640 ft.
115.2 kbps @ 1,640 ft.
1.5 Mbps @ 1,640 ft.
Remote Input/Output Compatibility
0000000
00000000
CompoNet
CJ1
CJ2
NJ
__
__
__
Plug In
90 kbps @ 1,640 ft.
1.5 Mbps @ 328 ft.
3 Mbps @ 98 ft.
4 Mbps @ 98 ft.
Remote Input/Output Compatibility
0000000
000000
CompoBus/S
CJ1
CJ2
__
__
__
Spring-Clamp Terminals
90 kbps @ 1,640 ft.
Remote Input/Output Compatibility
0000000
000000

Processor Socket Mounting Location

1:N NT Link
CompoWay/F
Host Link
User Defined
CJ2H
CJ2M (Requires DB9 Processor Socket)
RS-422A/RS-485 (1)
__
__
Screw Terminals
4.8 kbps @ 49 ft.
9.6 kbps @ 49 ft.
19.2 kbps @ 49 ft.
2.4 kbps @ 49 ft.
__
0000000
000000
1:N NT Link
CompoWay/F
Host Link
Modbus RTU
User Defined
CJ2M (Requires Option Slot)
CP1H
CP1L
RS-232C (1)
DB9
__
__
4.8 kbps @ 49 ft.
9.6 kbps @ 49 ft.
19.2 kbps @ 49 ft.
2.4 kbps @ 49 ft.
__
0000000
00000
1:N NT Link
CompoWay/F
Host Link
Modbus RTU
User Defined
CJ2M (Requires Option Slot)
CP1H
CP1L
RS-422A/RS-485 (1)
__
__
Screw Terminals
38.4 kbps @ 164 ft.
115.2 kbps @ 164 ft.
1.5 Mbps @ 164 ft.
__
0000000
00000
1:N NT Link
CompoWay/F
Host Link
Modbus RTU
User Defined
CJ2M (Requires Option Slot)
CP1H
CP1L
RS-422A/RS-485 (1)
__
__
Screw Terminals
38.4 kbps @ 1,640 ft.
115.2 kbps @ 1,640 ft.
1.5 Mbps @ 1,640 ft.
__
0000000
000000
FINS UDP/IP
Modbus TCP/IP
CJ2M (Requires Option Slot)
CP1H
CP1L
10 Base-T/100 Base-Tx (1)
__
RJ45
__
38.4 kbps @ 1,640 ft.
115.2 kbps @ 1,640 ft.
1.5 Mbps @ 1,640 ft.
__
0000000
000000