How to

Identify and Measure Fittings
Pipe size is an industry designation, not the actual size. View information about how to measure threaded and unthreaded pipe and pipe fittings.
Quick-Disconnect

Hose Couplings for Chemicals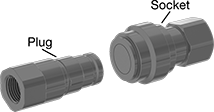 Made of polypropylene, these couplings are lightweight with excellent chemical resistance to withstand acids and solvents. Also known as flush-face couplings and minimal-spill couplings, the plugs and sockets have a flat face, which allows them to mate close against each other, reducing fluid loss when connecting and disconnecting the line. A complete coupling consists of a plug and a socket (both sold separately) that connect and disconnect quickly. Use them if you need frequent access to a line. All of the quick-disconnect chemical plugs are compatible with any of the quick-disconnect chemical sockets of the same coupling size, regardless of the pipe size. Also known as double shut-off couplings, the plug and the socket both have a shut-off valve that stops the flow when the coupling is separated, so fluid won't leak from the line.
Plugs are also known as nipples.
Note: To ensure a correct fit, make sure that the plug and socket have the same coupling size.
For technical drawings and 3-D models, click on a part number.
Plugs, Female Threaded Pipe




For Use

With:

Acetone,

Boric

Acid,

Hydrochloric Acid

(37%),

Sulfuric Acid
Maximum

Pressure:

See table
Temperature

Range:

40° to 140° F