Sights for
Quick-Clamp

Sanitary Tube Fittings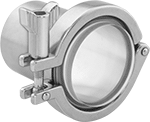 Sight Shown Assembled With
Gasket,
Quick-Clamp
Fitting,
And
Tube Fitting
(All Sold Separately)

Glass Window with 2205 Stainless Steel Ring
Monitor food, brewery, chemical, pharmaceutical, and biotech processing lines with these sights that attach to quick-clamp fittings for fast installation and easy removal for cleaning. All have a one-piece design, so there are no crevices where bacteria can grow. A quick-clamp fitting, gasket, and tube fitting are required (sold separately).
For superior strength and reliability, choose 2205 stainless steel sights. All have a glass window that's melted around a high-strength ring, so they won't shatter, leak, or lose their shape under high pressure, heat, chemicals, or impact. They withstand harsh cleaners and sanitizers for clean-in-place (CIP) and steam-in-place (SIP) applications. USP Class VI and TUV Rheinland Certified, these sights meet safety standards in the U.S. and Europe. They also meet DIN standards for glass materials used in sights, ASTM standards for materials used in boilers and pressure vessels, and ASME BPE design standards for bioprocessing equipment that ensure purity and safety.
For technical drawings and 3-D models, click on a part number.
For Tube
OD
For
Flange
OD
Window


Dia.

Max.


Pressure

Min.

Max.

For Use With
Features
Specifications
Met
Each

2205 Stainless Steel Ring with Glass Window

1", 1

1/2

"
1.98"
1"
230 psi @ 70° F
-40°
500°
Water, Hydraulic Fluid, Diesel Fuel, Acetic Acid, Air, Alcohol-Based Solvents, Beverage, Chemicals, Compressed Air, Food, Fuel Oil, Gasoline, Inert Gas, Ketone, Oil, Salt Water, Steam
One-Piece Construction
ASME BPE, ASTM A479, DIN 7079, DIN 7080, TUV Rheinland Certified, USP Class VI
0000000
0000000
2"
2.52"
1

3/16

"
230 psi @ 70° F
-40°
500°
Water, Hydraulic Fluid, Diesel Fuel, Acetic Acid, Air, Alcohol-Based Solvents, Beverage, Chemicals, Compressed Air, Food, Fuel Oil, Gasoline, Inert Gas, Ketone, Oil, Salt Water, Steam
One-Piece Construction
ASME BPE, ASTM A479, DIN 7079, DIN 7080, TUV Rheinland Certified, USP Class VI
0000000
000000
3"
3.58"
1

1/2

"
150 psi @ 70° F
-40°
500°
Water, Hydraulic Fluid, Diesel Fuel, Acetic Acid, Air, Alcohol-Based Solvents, Beverage, Chemicals, Compressed Air, Food, Fuel Oil, Gasoline, Inert Gas, Ketone, Oil, Salt Water, Steam
One-Piece Construction
ASME BPE, ASTM A479, DIN 7079, DIN 7080, TUV Rheinland Certified, USP Class VI
0000000
000000
4"
4.68"
2

3/16

"
150 psi @ 70° F
-40°
500°
Water, Hydraulic Fluid, Diesel Fuel, Acetic Acid, Air, Alcohol-Based Solvents, Beverage, Chemicals, Compressed Air, Food, Fuel Oil, Gasoline, Inert Gas, Ketone, Oil, Salt Water, Steam
One-Piece Construction
ASME BPE, ASTM A479, DIN 7079, DIN 7080, TUV Rheinland Certified, USP Class VI
0000000
000000