Selecting Clamps Using
Pipe,

Conduit,

or Tubing Trade Size
Strap Hangers
Cut as much strap as you need to hang duct, pipe, and other materials.
Perforated straps have mounting holes, so there's no need for drilling. Straps that have two mounting-hole diameters have alternately spaced large and small mounting holes. Solid straps allow you to drill your own mounting holes.
Flexible hangers create custom-sized loop hangers when they're wrapped around pipe and round duct.
Galvanized and zinc-plated steel straps have good corrosion resistance. Copper-plated steel straps resist corrosion when used with copper tubing. 304 stainless steel straps have excellent corrosion resistance.
For technical drawings and 3-D models, click on a part number.

Flexible with Perforated Construction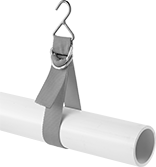 A versatile solution for temporary hanging of pipe and tubing at work sites as well as anywhere welding and fastening are not possible. Feed material through the strap, then use the D-rings to adjust the hanging height. Straps are polypropylene to prevent scratching on soft pipe and tubing. D-rings are galvanized steel for good corrosion resistance.