About Safety Ratings for Electrical Testing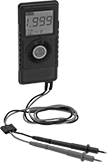 Perform a variety of electrical tests with a multimeter that fits in your pocket.
These multimeters are average sensing, so they take accurate AC measurements when testing equipment that has a linear load and draws current in a smooth sine wave, such as standard induction motors.
Display count is an industry designation and not an actual value. For example, a 6,000-count multimeter shows numbers up to 5,999. A higher display count means the multimeter can give a more precise measurement.
Safety
Rating
Measures

Max.


AC
Voltage

Max.


DC
Voltage
DC
Voltage
Accuracy

Max.

AC


Current,


mA

Max.

DC


Current,


mA
Hardware
Features
Display
Count
Includes
Each

Average Sensing AC Calculation

CAT III, 300V
Capacitance, Frequency, Resistance, AC Voltage, DC Voltage
450
450
1.2%
__
__
__
6,000
Carrying Case, Test Leads
000000
000000
CAT III, 300V
Capacitance, Frequency, Resistance, Current, AC Voltage, DC Voltage
600
600
1.5%
2
2
Overload Protection
6,000
Carrying Case, Test Leads
000000
00000
CAT IV, 600V
Capacitance, Frequency, Resistance, Current, AC Voltage, DC Voltage
600
600
0.8%
200
200
Lead Storage
4,000
Test Leads
0000000
00000