Unbreakable
Half-Dome

Safety Mirrors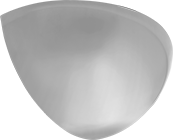 Even with the harshest of impacts, these mirrors will not break, shatter, or crack. Mount them where the ceiling and wall meet for an unobstructed overhead view of blind intersections and corners. All of these mirrors are weatherproof for outdoor use. Polycarbonate mirrors are lighter than the chrome-plated steel mirrors.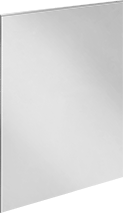 Frameless
These plastic and metal mirrors are more damage-resistant than glass.
To mount acrylic and polycarbonate mirrors, use a fine-point drill or sharp blade to create mounting holes. Apply masking tape to the entry point to minimize delamination.
Polycarbonate mirrors are shatter resistant.
For technical drawings and 3-D models, click on a part number.
Ht.

Wd.

Thick.

Mount
Type
Hardware
Included
Each

Frameless

Polycarbonate Plastic Mirror

12"
12"

1/8

"
Screw In
No
0000000
000000
12"
12"

1/4

"
Screw In
No
0000000
00000
18"
12"

1/8

"
Screw In
No
0000000
00000
18"
12"

1/4

"
Screw In
No
0000000
00000
24"
18"

1/8

"
Screw In
No
0000000
000000
24"
18"

1/4

"
Screw In
No
0000000
000000
30"
24"

1/8

"
Screw In
No
0000000
000000
30"
24"

1/4

"
Screw In
No
0000000
000000
36"
24"

1/8

"
Screw In
No
0000000
000000
36"
24"

1/4

"
Screw In
No
0000000
000000
48"
36"

1/8

"
Screw In
No
0000000
000000
48"
36"

1/4

"
Screw In
No
0000000
000000