About Selecting Thermal Insulation
Lightweight
High-Temperature

Polyimide Foam Sheets
In addition to being lighter in weight than silicone foam, this polyimide foam also remains soft and conformable across a broader temperature range. This foam has open-cell construction, which allows water, air, and gases to be absorbed.
For technical drawings and 3-D models, click on a part number.
Sheets with Coarse Texture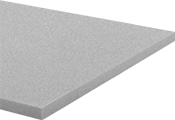 Color:

Yellow
Temperature

Range:

-300° to 400° F

Cell

Type:

Open

For Use

Outdoors:

No

Density:

0.

4

lbs./cu.

ft.

Pressure to Compress

25%:

1.

3 psi

(Ultra

Soft)

Tensile Strength

Rating:

Fair

Oil-

Resistance

Rating:

Not Rated
Crack-Resistant

Rigid Polyimide Insulation Sheets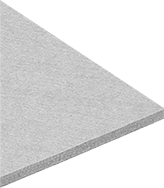 Even when subjected to heavy compression, these rigid polyimide sheets won't crack. To use outdoors, add metal jacketing.
Sheets with a density of 12 lbs./cu. ft. are easier to cut than denser polyimide insulation sheets, which makes them good for die-punching applications. They are not, however, good for machining.
Sheets with a density of 60 lbs./cu. ft. are more durable than less dense polyimide insulation sheets, so they can stand up to machining. They're often used for mold bases or press insulation.
Temperature

Range:

-300° to 550° F

Heat Flow

Rate:

0.

24

Btu @

75° F

Color:

Gold
Specifications

Met:

UL 94 V-0
Flame-Retardant

Sound-Absorbing

Sheets

This insulation meets ASTM E162 for flame retardance and ASTM E662 for smoke output. Use to quiet noisy areas and line machine enclosures. Sheets are made of polyimide foam.
Sound
Absorbed

Thick.

Wd.

Lg.,




ft.

Material
Color

Temp.




Range,




°F

Adhesive


Temp.




Range,

°F

Specifications
Met
Each

Adhesive Backing

15%

1/4

"
12"
1
Polyimide Foam
Yellow
-235° to 400°
-60° to 250°
ASTM E162, ASTM E662, FAR 25.853(a), FAR 25.856
000000
000000
15%

1/4

"
24"
4
Polyimide Foam
Yellow
-235° to 400°
-60° to 250°
ASTM E162, ASTM E662, FAR 25.853(a), FAR 25.856
0000000
000000
35%

1/2

"
12"
1
Polyimide Foam
Yellow
-235° to 400°
-60° to 250°
ASTM E162, ASTM E662, FAR 25.853(a), FAR 25.856
000000
00000
35%

1/2

"
24"
4
Polyimide Foam
Yellow
-235° to 400°
-60° to 250°
ASTM E162, ASTM E662, FAR 25.853(a), FAR 25.856
0000000
000000
50%

3/4

"
12"
1
Polyimide Foam
Yellow
-235° to 400°
-60° to 250°
ASTM E162, ASTM E662, FAR 25.853(a), FAR 25.856
000000
00000
50%

3/4

"
24"
4
Polyimide Foam
Yellow
-235° to 400°
-60° to 250°
ASTM E162, ASTM E662, FAR 25.853(a), FAR 25.856
0000000
000000
70%
1"
12"
1
Polyimide Foam
Yellow
-235° to 400°
-60° to 250°
ASTM E162, ASTM E662, FAR 25.853(a), FAR 25.856
000000
00000
70%
1"
24"
4
Polyimide Foam
Yellow
-235° to 400°
-60° to 250°
ASTM E162, ASTM E662, FAR 25.853(a), FAR 25.856
0000000
000000
85%
2"
12"
1
Polyimide Foam
Yellow
-235° to 400°
-60° to 250°
ASTM E162, ASTM E662, FAR 25.853(a), FAR 25.856
000000
00000
85%
2"
24"
4
Polyimide Foam
Yellow
-235° to 400°
-60° to 250°
ASTM E162, ASTM E662, FAR 25.853(a), FAR 25.856
0000000
000000