How to

Identify and Measure Fittings
Pipe size is an industry designation, not the actual size. View information about how to measure threaded and unthreaded pipe and pipe fittings.
Thick-Wall

Plastic Pipe Fittings for Water
Connect these fittings to Schedule 80 pipe–they have thicker, stronger walls than standard-wall fittings so they can handle heavy duty industrial plumbing and water supply applications, such as water processing, waste water treatment, and irrigation. Fittings are plastic for good corrosion resistance. They meet ASTM specifications and testing requirements for material quality.
Fittings for drinking water meet NSF/ANSI Standard 61.
To prevent leaks in threaded connections, apply a sealant to the male threads. For plastic threads, apply a non-hardening, plastic-compatible sealant. Tape or sealants with PTFE are not recommended for plastic-to-plastic connections.
Note: For fittings that are not rated for pressure, you can use the pressure rating of the plastic pipe as a reference. Threaded fittings are limited to 50% of the rated pressure of the pipe.
Warning: Never use plastic pipe fittings and pipe with compressed air or gas.
For technical drawings and 3-D models, click on a part number.
Union Straight Connectors with Collar, Female Threaded Pipe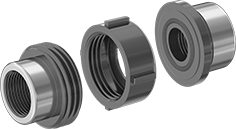 For Use

With:

Water
Maximum

Temperature:

180° F

Specifications

Met:

ASTM

D4101,

ASTM F1498

Pipe Nipples and

Pipe:

Use Schedule 80 Polypropylene Plastic

Flanges:

Use Class 150 Polypropylene Plastic
Fittings with stainless steel collar have a reinforcement on the female threads to prevent the threads from cracking.
Unions separate into three pieces so you can access your line.
Pipe
Size

Material
Collar Material

O-Ring

Material
Color

Max.

Pressure
Each

NPT Threads

1/2

Polypropylene Plastic

Stainless Steel
Viton® Fluoroelastomer Rubber
Black
150 psi @ 72° F
0000000
000000

3/4

Polypropylene Plastic

Stainless Steel
Viton® Fluoroelastomer Rubber
Black
150 psi @ 72° F
0000000
000000
1

Polypropylene Plastic

Stainless Steel
Viton® Fluoroelastomer Rubber
Black
150 psi @ 72° F
0000000
000000
1

1/2

Polypropylene Plastic

Stainless Steel
Viton® Fluoroelastomer Rubber
Black
150 psi @ 72° F
0000000
000000
2

Polypropylene Plastic

Stainless Steel
Viton® Fluoroelastomer Rubber
Black
150 psi @ 72° F
0000000
000000