System of Measurement

System of Measurement
REACH (Registration, Evaluation, Authorization and Restriction of Chemicals)

REACH

(Registration,




Evaluation,

Authorization
and Restriction of

Chemicals)
RoHS (Restriction of Hazardous Substances)

RoHS

(Restriction

of
Hazardous

Substances)
DFARS (Defense Acquisition Regulations Supplement)

DFARS

(Defense

Acquisition

Regulations

Supplement)
Floor Drain Plugs

Often used to prevent spills from going down your drain, these plugs resist oil and most chemicals. They are nonabsorbent, washable, and reusable. An eyebolt at the top makes these plugs easy to insert and remove.
Spill-Control

Drain Covers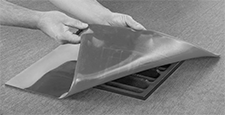 Block grates and manholes to stop liquids from going in, or seal inactive drains to keep odors from leaking out. Wash and reuse these polyurethane covers for multiple jobs—this durable material doesn't tear easily and won't degrade in water, oil, or chemicals.
36" wd. × 60" lg. covers are designed to fit over trench-style drains.
Wd.

Lg.

Dia.

Thick.

Material
Color
Each
__
__
12"

1/4

"
Polyurethane Rubber
Red
0000000
000000
18"
18"
__

1/4

"
Polyurethane Rubber
Red
0000000
000000
24"
24"
__

1/4

"
Polyurethane Rubber
Red
0000000
000000
36"
36"
__

1/4

"
Polyurethane Rubber
Red
0000000
000000
36"
60"
__

1/4

"
Polyurethane Rubber
Red
0000000
000000
48"
48"
__

1/4

"
Polyurethane Rubber
Red
0000000
000000