Porous
Mold-Quality

Metapor Aluminum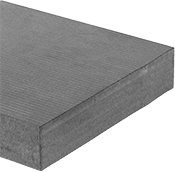 Yield

Strength:

Not Rated

Hardness:

Shore D80

(Soft)

Temper:

Not Rated

Fabrication:

Cast
Create molds for vacuum-forming and thermoforming applications. Metapor aluminum is porous to let air and moisture escape, which prevents bubbles and blemishes. These sheets must be milled to expose the pores; average pore diameter is 0.0006" with a total porosity of 15%.
For technical drawings and 3-D models, click on a part number.
Lightweight Aluminum Foam

Small Cell

Large Cell
Yield

Strength:

See table

Hardness:

Not Rated

Fabrication:

Cast
Specifications

Met:

ASTM

B557,

ASTM E9
Air is injected into the casting of this aluminum to reduce weight and create a crater-like appearance. These foam sheets are often used for sound insulation and architectural facades. Carbide- or diamond-tipped blades are required for machining. Diamond-tipped blades will cut this material more easily and not wear down as quickly as carbide-tipped blades.
Thick.

Thick.

Tolerance
Cell
Size
Yield


Strength,

psi

Flatness
Tolerance
6"


× 6"

12"


× 12"

1/2

"
-0.039" to 0.039"
Small
510
0.060" per ft.
0000000
1"
-0.039" to 0.039"
Large
45
0.060" per ft.
0000000
1"
-0.039" to 0.039"
Small
406
0.060" per ft.
0000000
1.7"
-0.039" to 0.039"
Large
36
0.060" per ft.
0000000