Backup Batteries for Mobile Devices

Charge Status
Indicator,
Impact
Resistant,
LED Flashlight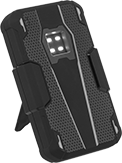 Charge Status
Indicator,
Impact
Resistant,
LED
Flashlight,
and Stand
Power mobile devices such as smartphones and tablets when electricity is unavailable. Charge these batteries by plugging the included USB cord or cable into a computer or charger. The cords and cables are backward compatible, so they work with connectors that meet the same or a lower USB standard. For maximum battery life, recharge these lithium ion (Li-Ion) batteries before they're drained completely.
Impact-resistant batteries are more durable than standard batteries.
Batteries rated IP65 have protection from dust and low-pressure streams of water.
Some batteries cannot be sold to Canada due to NRCan energy efficiency regulations.
Number
of USB
Charging Ports
USB
Connection
Type
USB
Standard
Voltage

Capacity,




mA-hrs.

Includes
Features
Environmental
Rating
Color

Ht.

Wd.

Dp.

Cannot
Be
Sold To
Each
2
A, C
3.0
5
10,050
21" USB Type C to USB Type A Cable
Charge Status Indicator, Impact Resistant, LED Flashlight
__
Black
4.1"
2.5"
1.1"
Canada
0000000
000000
3
A, C
3.0
5
13,400
21" USB Type C to USB Type A Cable
Charge Status Indicator, Impact Resistant, LED Flashlight, Stand
IP65

Black
5.7"
3.5"
1"
Canada
0000000
00000