About AC to AC Voltage Transformers
For single-phase equipment, use this formula to find power output: VA = Volts × Amps
For three-phase equipment, use this formula to find power output: VA = Volts × Amps × 1.73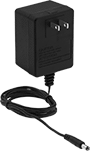 Power devices that require less than 120 volts AC. They can also be used to charge backup batteries.
Straight-Blade

Connection

Voltage

Current,


mA
End

ID,


mm
End

OD,


mm
End
Shape
Voltage
NEMA
Style
End
Shape

Lg.,




ft.

Specifications
Met
Color
Each
24V AC
500
2.1
5.5
Straight
120V AC
1-15
90° Elbow
6
UL Listed

Black
00000000
000000
Solenoid Valve Cords
Use these cords with hydraulic and air-powered valves, motors, pumps, and pressure switches. They have a solenoid valve socket on one end and an M12 threaded plug on the other. The ground connection is not included in the number of poles. A power-indicating light on the socket illuminates when the cord has power. All are IP-rated for protection from washdowns and temporary submersion.

Solenoid
Connection
Type
Contact
Distance
Housing
Thread
Size

Coding

No.


of
Poles

No.

of
Ground
Connections

Lg.,




ft.

Wire
Gauge

Current,


A
Voltage
OD
Insulation
Material
Environmental
Rating
Specifications
Met
Each

90°

Elbow Socket × Plug

(External Thread)

DIN Type A
0.71" (18 mm)
M12

A
2
1

1/2

18

4
24V AC/24V DC
0.23"
PVC Plastic
IP67, IP66K
CSA Certified, CE Marked, CSA-US Certified, DIN 43650
00000000
000000
DIN Type A
0.71" (18 mm)
M12

A
2
1
1

1/2

18

4
24V AC/24V DC
0.23"
PVC Plastic
IP67, IP66K
CSA Certified, CE Marked, CSA-US Certified, DIN 43650
00000000
00000
DIN Type A
0.71" (18 mm)
M12

A
2
1
3
18

4
24V AC/24V DC
0.23"
PVC Plastic
IP67, IP66K
CSA Certified, CE Marked, CSA-US Certified, DIN 43650
0000000
00000
DIN Type A
0.71" (18 mm)
M12

A
2
1
6

1/2

18

4
24V AC/24V DC
0.23"
PVC Plastic
IP67, IP66K
CSA Certified, CE Marked, CSA-US Certified, DIN 43650
0000000
00000
DIN Type BI
0.43" (11 mm)
M12

A
2
1

1/2

18

4
24V AC/24V DC
0.23"
PVC Plastic
IP67, IP66K
CSA Certified, CE Marked, CSA-US Certified, DIN 43650
00000000
00000
DIN Type BI
0.43" (11 mm)
M12

A
2
1
1

1/2

18

4
24V AC/24V DC
0.23"
PVC Plastic
IP67, IP66K
CSA Certified, CE Marked, CSA-US Certified, DIN 43650
00000000
00000
DIN Type BI
0.43" (11 mm)
M12

A
2
1
3
18

4
24V AC/24V DC
0.23"
PVC Plastic
IP67, IP66K
CSA Certified, CE Marked, CSA-US Certified, DIN 43650
0000000
00000
DIN Type BI
0.43" (11 mm)
M12

A
2
1
6

1/2

18

4
24V AC/24V DC
0.23"
PVC Plastic
IP67, IP66K
CSA Certified, CE Marked, CSA-US Certified, DIN 43650
0000000
00000
DIN Type C
0.31" (8 mm)
M12

A
2
1

1/2

18

4
24V AC/24V DC
0.23"
PVC Plastic
IP67, IP66K
CSA Certified, CE Marked, CSA-US Certified, DIN 43650
00000000
00000
DIN Type C
0.31" (8 mm)
M12

A
2
1
1

1/2

18

4
24V AC/24V DC
0.23"
PVC Plastic
IP67, IP66K
CSA Certified, CE Marked, CSA-US Certified, DIN 43650
00000000
00000
DIN Type C
0.31" (8 mm)
M12

A
2
1
3
18

4
24V AC/24V DC
0.23"
PVC Plastic
IP67, IP66K
CSA Certified, CE Marked, CSA-US Certified, DIN 43650
0000000
00000
DIN Type C
0.31" (8 mm)
M12

A
2
1
6

1/2

18

4
24V AC/24V DC
0.23"
PVC Plastic
IP67, IP66K
CSA Certified, CE Marked, CSA-US Certified, DIN 43650
0000000
00000
DIN Type CI
0.37" (9.4 mm)
M12

A
2
1

1/2

18

4
24V AC/24V DC
0.23"
PVC Plastic
IP67, IP66K
CSA Certified, CE Marked, CSA-US Certified, DIN 43650
00000000
00000
DIN Type CI
0.37" (9.4 mm)
M12

A
2
1
1

1/2

18

4
24V AC/24V DC
0.23"
PVC Plastic
IP67, IP66K
CSA Certified, CE Marked, CSA-US Certified, DIN 43650
00000000
00000
DIN Type CI
0.37" (9.4 mm)
M12

A
2
1
3
18

4
24V AC/24V DC
0.23"
PVC Plastic
IP67, IP66K
CSA Certified, CE Marked, CSA-US Certified, DIN 43650
0000000
00000
DIN Type CI
0.37" (9.4 mm)
M12

A
2
1
6

1/2

18

4
24V AC/24V DC
0.23"
PVC Plastic
IP67, IP66K
CSA Certified, CE Marked, CSA-US Certified, DIN 43650
0000000
00000