Single Pair Ethernet Cords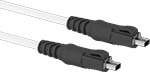 These cords contain a single pair of twisted wires, making them lighter and more flexible than other Ethernet cords. They're good for transportation, robotics, and automation applications. Cords have a metal locking tab to create a more secure connection than cords with RJ45 connectors, and are easier to install than coaxial cords and cords with M12 connectors. They transmit power as well as data, making them useful in places without an easily accessible power supply. These cords are shielded to block out signal interference from nearby devices.
Cords meet IEEE standards for data transmission speeds and protocols. All meet EN 60811-404 for resistance to mineral oil. They're compliant with IEC 60332-1-2 for flame retardancy and IEC 63171-6 for single pair Ethernet cord dimensions and compatibility.
For technical drawings and 3-D models, click on a part number.
Length,




ft.

Transmission
Frequency

Current,


A
Voltage
Wire
Gauge

Cord
OD
Shield
Type
Specifications
Met
Temperature


Range,




°F

Environmental
Rating
Features
Color
Each

T1 Plug × T1 Plug

Single Pair Ethernet

(SPE)

1
600 MHz
4
60V DC
26

0.17"
Braid, Foil
UL Listed, EN 60811-404, IEC 60332-1-2, IEC 63171-6, IEEE802.3bp, IEEE802.3bu, IEEE802.3bw, IEEE802.3cg
-10° to 175°
IP20

Locking Tab, Power over Data Line (PoDL)
Yellow
0000000
000000
3
600 MHz
4
60V DC
26

0.17"
Braid, Foil
UL Listed, EN 60811-404, IEC 60332-1-2, IEC 63171-6, IEEE802.3bp, IEEE802.3bu, IEEE802.3bw, IEEE802.3cg
-10° to 175°
IP20

Locking Tab, Power over Data Line (PoDL)
Yellow
0000000
00000
6

1/2

600 MHz
4
60V DC
26

0.17"
Braid, Foil
UL Listed, EN 60811-404, IEC 60332-1-2, IEC 63171-6, IEEE802.3bp, IEEE802.3bu, IEEE802.3bw, IEEE802.3cg
-10° to 175°
IP20

Locking Tab, Power over Data Line (PoDL)
Yellow
0000000
00000
10
600 MHz
4
60V DC
26

0.17"
Braid, Foil
UL Listed, EN 60811-404, IEC 60332-1-2, IEC 63171-6, IEEE802.3bp, IEEE802.3bu, IEEE802.3bw, IEEE802.3cg
-10° to 175°
IP20

Locking Tab, Power over Data Line (PoDL)
Yellow
0000000
00000
16

1/2

600 MHz
4
60V DC
26

0.17"
Braid, Foil
UL Listed, EN 60811-404, IEC 60332-1-2, IEC 63171-6, IEEE802.3bp, IEEE802.3bu, IEEE802.3bw, IEEE802.3cg
-10° to 175°
IP20

Locking Tab, Power over Data Line (PoDL)
Yellow
0000000
00000
24

1/2

600 MHz
4
60V DC
26

0.17"
Braid, Foil
UL Listed, EN 60811-404, IEC 60332-1-2, IEC 63171-6, IEEE802.3bp, IEEE802.3bu, IEEE802.3bw, IEEE802.3cg
-10° to 175°
IP20

Locking Tab, Power over Data Line (PoDL)
Yellow
0000000
00000
49
600 MHz
4
60V DC
26

0.17"
Braid, Foil
UL Listed, EN 60811-404, IEC 60332-1-2, IEC 63171-6, IEEE802.3bp, IEEE802.3bu, IEEE802.3bw, IEEE802.3cg
-10° to 175°
IP20

Locking Tab, Power over Data Line (PoDL)
Yellow
0000000
00000