Ultra-Low-Noise

Power Supplies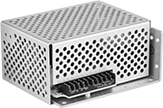 Power Supply with Cover Installed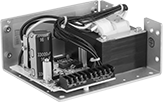 Power Supply
Often used for high-precision and sensitive electronics such as testing and audio equipment, these power supplies produce low output noise for minimal electronic interference. They are designed with linear voltage regulation, so they deliver the same voltage regardless of changes in the input voltage or current. These power supplies also have remote voltage sensing—when voltage dips they compensate with extra power, so your devices always receive the correct voltage. However, they give off more heat, weigh more, have a larger footprint, and lower efficiencies than switching power supplies. Mount them on the inside surface of device enclosures.
All meet U.S., Canadian, and European safety standards. If you exceed the maximum load or current, they shut down to protect both the power supply and the connected equipment. These power supplies cannot be sold to the listed areas due to local energy efficiency requirements.
Power supplies with overvoltage protection will shut down if you exceed the maximum voltage.
Covers keep you from accidentally touching the power supply interior, protecting you from shocks. However, these covers reduce the power supply's maximum output by 15%.
Voltage


(Adjustment Range)

Current,


A

Power,


W

Max.

Output


Noise,


mVpp
Efficiency

Ht.

Wd.

Dp.

Protections
Provided
Cannot
Be
Sold To
Each
Each

Single

Phase—

100V

AC,

120V

AC,

220V

AC,

230V

AC,

240V AC Input Voltage

Screw Terminals Input and Output

5V DC (4.75-5.25V DC)
3
15
3
50% @ 120 V AC
2.07"
4.84"
3.99"
Overcurrent, Overload, Overvoltage
CA, VT
0000000
0000000
0000000
000000
5V DC (4.75-5.25V DC)
6
30
3
50% @ 120 V AC
2.95"
4.87"
5.62"
Overcurrent, Overload, Overvoltage
CA, VT
0000000
000000
0000000
00000
5V DC (4.75-5.25V DC)
9
45
3
50% @ 120 V AC
3.3"
7"
4.87"
Overcurrent, Overload, Overvoltage
CA, VT
0000000
000000
0000000
00000
5V DC (4.75-5.25V DC)
12
60
3
50% @ 120 V AC
3.3"
9"
4.87"
Overcurrent, Overload, Overvoltage
CA, VT
0000000
000000
0000000
00000
12V DC (11.4-12.6V DC)
1.7
20.4
3
50% @ 120 V AC
2.07"
4.84"
3.99"
Overcurrent, Overload
CA, VT
0000000
000000
0000000
00000
12V DC (11.4-12.6V DC)
3.4
40.8
3
50% @ 120 V AC
2.95"
4.87"
5.62"
Overcurrent, Overload
CA, VT
0000000
000000
0000000
00000
12V DC (11.4-12.6V DC)
5.1
61.2
3
50% @ 120 V AC
3.3"
7"
4.87"
Overcurrent, Overload
CA, VT
0000000
000000
0000000
00000
12V DC (11.4-12.6V DC)
6.8
81.6
3
50% @ 120 V AC
3.3"
9"
4.87"
Overcurrent, Overload
CA, VT
0000000
000000
0000000
00000
15V DC (14.25-15.75V DC)
4.5
67.5
3
50% @ 120 V AC
3.3"
7"
4.87"
Overcurrent, Overload
CA, VT
0000000
000000
0000000
00000
15V DC (14.25-15.75V DC)
6
90
3
50% @ 120 V AC
3.3"
9"
4.87"
Overcurrent, Overload
CA, VT
0000000
000000
0000000
00000
24V DC (22.8-25.2V DC)
1.2
28.8
3
50% @ 120 V AC
2.07"
4.84"
3.99"
Overcurrent, Overload
CA, VT
0000000
000000
0000000
00000
24V DC (22.8-25.2V DC)
2.4
57.6
3
50% @ 120 V AC
2.95"
4.87"
5.62"
Overcurrent, Overload
CA, VT
0000000
000000
0000000
00000
24V DC (22.8-25.2V DC)
3.6
86.4
3
50% @ 120 V AC
3.3"
7"
4.87"
Overcurrent, Overload
CA, VT
0000000
000000
0000000
00000
24V DC (22.8-25.2V DC)
4.8
115.2
3
50% @ 120 V AC
3.3"
9"
4.87"
Overcurrent, Overload
CA, VT
0000000
000000
0000000
00000
24V DC (22.8-25.2V DC)
7.2
172.8
3
50% @ 120 V AC
3.34"
13.98"
4.87"
Overcurrent, Overload
CA, VT
0000000
000000
0000000
00000
24V DC (22.8-25.2V DC)
12
288
3
50% @ 120 V AC
5.43"
16.85"
4.92"
Overcurrent, Overload
CA, VT
0000000
000000
0000000
00000