DC to

AC Transformers for Sensitive Electronic Loads
These transformers produce AC output that most closely resembles clean, stable AC-generated power. Also known as inverters and converters, they prevent damage from overloads, short circuits, and overheating.
Single Phase—Wire Leads Input and Socket Output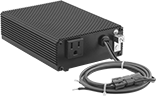 With Wire Leads

No.

of
Outlets
Input
Output

Power, W

Current,


A
Output Socket
Type

(NEMA Style)

Ht.

Wd.

Dp.

Each

Step Up Voltage

1
24V DC
120V AC
125
1.1
Three Slot (5-15)
2.2"
4.9"
7.9"
00000000
0000000
Power Supplies for Programmable Logic Controllers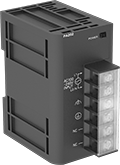 Designed for PLCs, these power supplies attach to your processor to bring your automated system to life. Once connected, they take in the voltage from your facility, convert and regulate it, and send out stabilized power to the rest of your equipment. Choose an input voltage that is supported by your facility's power source. The output power should support the power consumption of your entire system—from the processor and input/output modules to any expansion units and instruments that you're configuring. The more pieces of equipment you connect, the more output power you'll need. Mount these to DIN rails inside industrial cabinets and electrical panels.
Meeting NEC safety standards, these power supplies can be used in hazardous locations. They're rated IP20 to prevent you from accidentally touching internal circuitry and shocking yourself. With various domestic and international certifications, such as UL and C-UL listing, CE marking, and CSA certification, these power supplies meet stringent safety requirements.
Power supplies with galvanic isolation have a safety feature that provides an electrical barrier between primary and secondary power. This barrier protects against sudden power surges and electrical shocks, leaving your equipment operational and unharmed.
For technical drawings and 3-D models, click on a part number.