High-Speed

AC to DC Electromagnet Transformers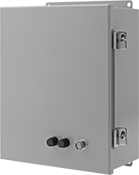 Suitable for high-speed automated applications, these transformers reverse the magnetic current and release your electromagnet's hold faster than other electromagnet transformers. Turn off the transformer and the magnetic current reverses automatically for release. The transformer's power output wattage should be equal to or greater than the watts of your electromagnet. All are rated NEMA 12 for protection from oil/coolant dripping. Also known as rectifiers. They cannot be sold to the regions listed due to local energy efficiency requirements.
Input
Output
Power


Output,


W

Ht.

Wd.

Dp.

No.

of
Mounting
Holes
Mounting
Hole


Dia.

Mounting
Fasteners
Included
Housing
Material

Max.




Temp.,




°F

Cannot
Be
Sold To
Each

Single

Phase—

Terminal Block Input and Output

Step Down Voltage

240V AC, 480V AC
110V DC
100
12"
10"
5"
4

9/32

"
No
Steel
140°
CA, VT
0000000
000000000

Send electricity to LED lights while protecting them from voltage and current fluctuations. These drivers convert high-voltage, alternating current from your power supply into low-voltage, direct current. Use them to replace existing LED drivers or build your own light fixtures. All meet U.S. and Canadian safety standards, as well as UL requirements for use in dry and damp locations. They're also FCC compliant to meet regulations for electromagnetic interference.
Drivers that are for use outdoors help light roadways and parking garages. They're often used with area, flood, bay, and security lights, as well as with signage.
Constant-current drivers ensure a reliable output from your fixture and prevent it from degrading quickly due to current fluctuations and receiving too much power. They're the most common type of LED driver.
For technical drawings and 3-D models, click on a part number.
Voltage

Current, A

Wattage
Wire
Connection
Type

Current, A

Max.


Wattage
Wire
Connection
Type
Light
Setting

Lg.

Wd.

Ht.

Temperature


Range,




°F

Each

347-480V

AC Input Voltage

70-210V DC
1.25-0.1
180W
Wire Leads
0.56-0.40
200W
Wire Leads
Dimmable
9

1/2

"
2

5/16

"
1

1/2

"
-40° to 130°
00000000
0000000
Drivers with Constant Current—For Use Outdoors
Voltage

Current, A

Wattage
Wire
Connection
Type

Current, A

Max.


Wattage
Wire
Connection
Type
Light
Setting

Lg.

Wd.

Ht.

Temperature


Range,




°F

Each

347-480V

AC Input Voltage

42-142V DC
1.05
150W
Wire Leads
0.50-0.35
164W
Wire Leads
Dimmable
9

1/2

"
2

5/16

"
1

1/2

"
-40° to 130°
00000000
0000000