Junction-Box-Mount

Power Supplies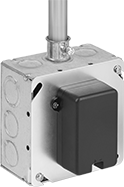 Convert AC voltage to DC voltage without plugging a bulky adapter into your outlet. These power supplies come mounted onto a cover that fits a standard junction box, also known as an outlet box. They wire to your building's electricity with wire leads and screw terminals. They're often used to power building automation systems such as automatic doors, sinks, and lights.
These power supplies use switching regulation, so they put out the stated voltage despite fluctuations in your outlet's power and the power being drawn by your device. It also means they won't get too hot. Their overvoltage protection shields the power supply and connected load from damage if you exceed the maximum voltage.
UL and C-UL listed, these power supplies meet U.S. and Canadian safety standards. They also have an LPS output, which means they meet international standards for safe, low-voltage output. With a Class II shock protection, they have two levels of insulation.
These power supplies meet U.S. Department of Energy standards for energy efficiency when both in-use and in standby mode.
Maximum output noise is also known as ripple noise. The lower the value, the less interference the power supply creates. For most applications, a value over 100mVpp isn't a problem. However, when using to power extremely sensitive electronics, such as audio equipment and high- precision measuring and testing equipment, you'll want an output noise around 5mVpp or less.
Efficiency describes how good a power supply is at converting the AC power it draws from your main electrical supply into DC power. The higher the efficiency score, the less money it will cost to run and the less heat it will produce.
Voltage

Current,


A

Power, W

Max.

Output


Noise,


mVpp
Efficiency

Ht.

Wd.

Dp.

Ht.

Wd.

Dp.

Specifications
Met
Each

Single

Phase—

100-240V

AC Input Voltage

Wire Leads Input and

Screw-Clamp

Terminals Output

12V DC
1.5
18
150
85% @ 115 V AC
3"
1.9"
1.2"
4"
4"
0.1"
UL Listed, C-UL Listed, DOE Level VI Efficiency
0000000
000000
24V DC
0.75
18
200
85% @ 115 V AC
3"
1.9"
1.2"
4"
4"
0.1"
UL Listed, C-UL Listed, DOE Level VI Efficiency
0000000
00000