Benchtop Power Supplies
Convert AC voltage into the DC voltages needed to test, design, and prototype a wide variety of electrical circuits and equipment. These power supplies let you adjust the output to the exact voltage needed to power your equipment. You can also set limits on the maximum current to protect your equipment from damage. Keep an eye on the voltage and current drawn by your connected components with the digital display.
Since these use switching regulation, they produce the stated voltage despite fluctuations in your input power and the power being drawn by your system, and won't become too hot.
When these power supplies convert AC voltage to DC voltage, some noise from the AC voltage will carry into the output. While this won't affect most applications, this noise can interfere with other signals in extremely sensitive applications. The lower the output noise, the less interference it creates.
These power supplies are CE Marked, which means they meet European Union safety standards. If your power supply exceeds the maximum current, voltage, or load, they'll shut down to protect both the power supply and the connected equipment. Some also protect against excessive temperatures.
Power supplies with output voltage selector switch let you choose either an adjustable output, which you control with a dial, or an output fixed at 13.8V DC.
Connect the banana plugs on your equipment to the socket output connections. You can use more than one output at the same time, but you can't adjust them independently—all outputs are set to the voltage you select.
Power supplies that cannot be sold to California and Vermont are restricted by local energy efficency regulations.
With One Output Connection—Banana Jack Socket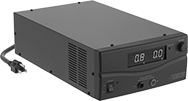 With One Output Connection
(Banana Jack)
Banana Jack Socket Output

Voltage

Current,


A

Power,


W

Max.

Output


Noise,


mVpp
Output
Connection
Location
Output
Features

Ht.

Wd.

Dp.

Protections
Provided
Cannot
Be
Sold To
Each

Single

Phase—

120V AC Input Voltage

13.8V DC, 3-15V DC
40
552, 120-600
30
Front
Constant Current, Constant Voltage, Output Voltage Selector Switch
4.4"
11.9"
8.6"
Overcurrent, Overload, Overvoltage, Over Temperature
CA, VT
0000000
0000000
Fixed-Voltage

Benchtop Power Supplies
No need to adjust the voltage on these power supplies—they're specifically designed to convert 120V AC to 13.8V DC. This voltage is common in radio transmitters, battery chargers, and automotive electrical systems, so these power supplies are often used to develop and test electronics that will be used in those applications. Since they are not adjustable, there's no risk of supplying the wrong voltage and damaging your equipment.
These power supplies have linear voltage regulation, which means they produce the same voltage regardless of changes in the input voltage or the amount of current being drawn. They are also known as linear power supplies. They have extremely low noise output, meaning that they keep electronic interference (also known as output noise or ripple noise) from being passed on to your device. However, these power supplies are larger, use more energy, and give off more heat than switching power supplies with a similar output.
If you exceed the maximum load or current, they'll shut down to protect both the power supply and the connected equipment. Power supplies with overvoltage protection will also shut down if you exceed the maximum voltage.
When selecting power supplies, make sure the output connection is compatible with your equipment. Threaded stud output connections work with wire leads. Wrap the wire around the stud and secure with the included nuts, or attach alligator clips to the studs. Test leads with banana plugs can be plugged into socket output connections.
Power supplies that are UL and C-UL listed meet U.S. and Canadian safety standards.
Power supplies that cannot be sold to California and Vermont do not meet energy efficiency requirements.
With One Output Connection—Threaded Stud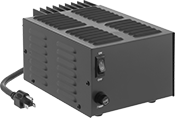 With Back Threaded Stud Connection
(Front View)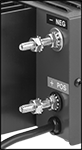 Threaded Stud on Back
Voltage

Current,


A

Power,


W

Max.

Output


Noise,


mVpp
Output
Connection
Location
Output
Features

Ht.

Wd.

Dp.

Protections
Provided
Each

Single

Phase—

120V AC Input Voltage

13.8V DC
20
267
13
Back
Constant Voltage
4.5"
6"
10"
Overcurrent, Overload, Overvoltage
0000000
0000000
13.8V DC
25
331.2
16
Back
Constant Voltage
6.8"
6.3"
10.3"
Overcurrent, Overload, Overvoltage
0000000
000000
13.8V DC
40
532.3
30
Back
Constant Voltage
6.8"
10.5"
11.5"
Overcurrent, Overload, Overvoltage
000000
000000
13.8V DC
60
780.5
28
Back
Constant Voltage
6.8"
10.5"
11.5"
Overcurrent, Overload, Overvoltage
0000000
000000
With One Output Connection—Banana Jack Socket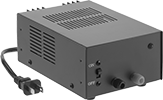 With Front Banana Jack Connection
(Front View)
With Back Banana Jack Connection
(Front View)

Banana Jack on Back
Banana Jack Socket Output

Voltage

Current,


A

Power,


W

Max.

Output


Noise,


mVpp
Output
Connection
Location
Output
Features

Ht.

Wd.

Dp.

Protections
Provided
Specifications
Met
Cannot
Be
Sold To
Each

Single

Phase—

120V AC Input Voltage

13.8V DC
3
39.8
32
Front
Constant Voltage
4.3"
3"
7.5"
Overcurrent, Overload
UL Listed, C-UL Listed

CA, VT
0000000
000000
13.8V DC
4.5
44.1
40
Front
Constant Voltage
3"
4.5"
7.5"
Overcurrent, Overload
__
CA, VT
0000000
00000
13.8V DC
7
79.6
7
Back
Constant Voltage
3.8"
6.5"
7.5"
Overcurrent, Overload
__
CA, VT
0000000
00000
13.8V DC
10
136.4
7
Back
Constant Voltage
4.5"
6.8"
7.8"
Overcurrent, Overload
__
CA, VT
0000000
000000
13.8V DC
12
161.2
7
Back
Constant Voltage
4.5"
6.8"
7.8"
Overcurrent, Overload
__
CA, VT
0000000
000000