AS-Interface

DIN-Rail

Power Supplies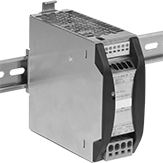 Send both electrical and data signals to equipment on AS-interface networks. These power supplies briefly boost power to 150% of their maximum operating current for starting motors, actuating solenoid valves, and other applications that require a higher starting current than their operating current. All of this means you get a more powerful power supply in a compact size.
Mount these power supplies to a DIN rail in your industrial cabinet or electrical panel. To monitor sudden voltage drops, wire them to a panel light or alarm, or connect them to a PLC (Programmable Logic Controller).
All of these power supplies use switching regulation, which means they produce the stated voltage despite fluctuations in your input power and the power being drawn by your system, and they won't become too hot. They're also SEMI F47 compliant, so they meet standards for maintaining output voltage when input voltage dips. This is commonly known as voltage sag immunity. If you exceed the maximum voltage, temperature, or load, they protect both the power supply and the connected equipment. These power supplies also meet the voltage requirements for use in a SELV (separated extra low voltage) circuit.
Rated IP20, they prevent your fingers from touching internal components and accidentally shocking yourself. They're also UL and C-UL listed, UL recognized, and CE marked so you know they meet stringent safety standards.
Maximum output noise is also known as ripple noise. The lower the value, the less interference the power supply creates. For most applications, a value over 100mVpp isn't a problem. However, when using to power extremely sensitive electronics, such as audio equipment and high- precision measuring and testing equipment, you'll want an output noise around 5mVpp or less.
Power factor shows how effectively a power supply draws AC power from the main electrical supply. The higher the power factor—up to a maximum score of 1—the lower your operating cost.
Efficiency describes how good a power supply is at converting the AC power it draws from your main electrical supply into DC power. High-efficiency power supplies cost less money to operate and produce less heat, meaning cooler temperatures in your electrical cabinet.
Voltage


(Adjustment Range)

Current,


A
Peak
Current

Power, W

Max.

Output Noise


Peak-to-Peak,


mV DC
Power
Factor
Efficiency

Ht.

Wd.

Dp.

Each

Three

Phase—

360-500V

AC Input Voltage

Spring-Clamp

Terminals Input and Output

30.5V DC (30-32V DC)
4.8
7.2 A, 5 seconds
144
20
0.61 @ 400 V AC
92.5% @ 400 V AC
91.8% @ 480 V AC
5.63"
1.97"
5.63"
0000000
0000000