Detachable-Cord

AC to DC Adapters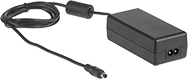 IEC C8
Input and Barrel Output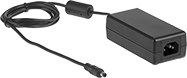 IEC C14
Input and Barrel Output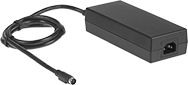 IEC C14
Input and
4-Pin
Output

Barrel Output


Positive


Pair these adapters with power cords that have the plug style and cord length you need to run DC-powered devices from your outlet. Unlike adapters with bodies that plug directly into an outlet, the body of these adapters rests on a desk or the floor, so it won't block multiple outlets.
When selecting an adapter, make sure the DC voltage and amps for the barrel or pin output connection can handle the requirements of your device. Choosing a DC voltage and amps that are much higher than you need will not improve performance. For adapters with a barrel output connection, the polarity of your power cord and your device must be the same. Look for the polarity illustration on your device or the adapter you're replacing and make sure your power cord matches it.
Adapters with an IEC C8 input connection require power cords with a C7 socket. Those with an IEC C14 input connection require power cords with a C13 socket.
These adapters use switching regulation, which means they produce the stated voltage despite fluctuations in your outlet's power and the power being drawn by your device. It also means they won't get too hot.
If something fails inside the adapters, the LPS low-voltage output on most adapters will limit the risk of electrical shocks. Adapters with Class II shock protection have two levels of insulation that also prevent electrical shocks. Those with Class I shock protection prevent electrical shocks with a combination of insulation and a protective ground. All have passed strict U.S., Canadian, and European Union safety standards.
All of these adapters meet U.S. DOE (Department of Energy) Level VI standards for energy efficiency when they're in-use, as well as when they're plugged in but not in use. Many also meet EU CoC (European Union Code of Conduct) Tier 2 energy efficiency standards for the same uses.
Barrel/Pin

Output Connection

Straight-Blade

Input Connection

Voltage

Current,


A
Polarity
End


ID,


mm
End


OD,


mm
End
Shape
Voltage

Current,


A
End
Shape

Lg.,




ft.

Shock
Protection
Class
Protections
Provided
Color
Each

IEC C8 Input × Barrel Output

5V DC
5
Positive
2.1
5.5
Straight
120V AC, 240V AC
1
Straight
5
II
Overcurrent, Overvoltage, Short Circuit
Black
00000000
000000
9V DC
2.2
Positive
2.1
5.5
Straight
120V AC, 240V AC
0.5
Straight
5
II
Overcurrent, Overvoltage, Short Circuit
Black
00000000
00000
9V DC
3.3
Positive
2.1
5.5
Straight
120V AC, 240V AC
1
Straight
5
II
Overcurrent, Overvoltage, Short Circuit
Black
00000000
00000
12V DC
1.6
Positive
2.1
5.5
Straight
120V AC, 240V AC
0.5
Straight
5
II
Overcurrent, Overvoltage, Short Circuit
Black
00000000
00000
12V DC
5
Positive
2.1
5.5
Straight
120V AC, 240V AC
1.4
Straight
5
II
Overcurrent, Overvoltage, Short Circuit
Black
00000000
00000
15V DC
1.3
Positive
2.1
5.5
Straight
120V AC, 240V AC
0.5
Straight
5
II
Overcurrent, Overvoltage, Short Circuit
Black
0000000
00000
18V DC
1.1
Positive
2.1
5.5
Straight
120V AC, 240V AC
0.5
Straight
5
II
Overcurrent, Overvoltage, Short Circuit
Black
00000000
00000
18V DC
2
Positive
2.1
5.5
Straight
120V AC, 240V AC
1
Straight
5
II
Overcurrent, Overvoltage, Short Circuit
Black
00000000
00000
18V DC
3.6
Positive
2.1
5.5
Straight
120V AC, 240V AC
1.4
Straight
5
II
Overcurrent, Overvoltage, Short Circuit
Black
00000000
00000
24V DC
0.8
Positive
2.1
5.5
Straight
120V AC, 240V AC
0.5
Straight
5
II
Overcurrent, Overvoltage, Short Circuit
Black
00000000
00000
24V DC
1.5
Positive
2.1
5.5
Straight
120V AC, 240V AC
1
Straight
5
II
Overcurrent, Overvoltage, Short Circuit
Black
00000000
00000
24V DC
2.7
Positive
2.1
5.5
Straight
120V AC, 240V AC
1.4
Straight
5
II
Overcurrent, Overvoltage, Short Circuit
Black
00000000
00000
48V DC
0.5
Positive
2.1
5.5
Straight
120V AC, 240V AC
0.6
Straight
5
II
Overcurrent, Overvoltage, Short Circuit
Black
00000000
00000
48V DC
0.8
Positive
2.1
5.5
Straight
120V AC, 240V AC
1
Straight
5
II
Overcurrent, Overvoltage, Short Circuit
Black
00000000
00000
48V DC
1.4
Positive
2.1
5.5
Straight
120V AC, 240V AC
1.4
Straight
5
II
Overcurrent, Overvoltage, Short Circuit
Black
00000000
00000
56V DC
1.2
Positive
2.1
5.5
Straight
120V AC, 240V AC
1.4
Straight
5
II
Overcurrent, Overvoltage, Short Circuit
Black
00000000
00000

IEC C14 Input × Barrel Output

5V DC
5
Positive
2.1
5.5
Straight
120V AC, 240V AC
1
Straight
5
I
Overcurrent, Overvoltage, Short Circuit
Black
00000000
00000
9V DC
2.2
Positive
2.1
5.5
Straight
120V AC, 240V AC
0.5
Straight
5
I
Overcurrent, Overvoltage, Short Circuit
Black
00000000
00000
9V DC
3.3
Positive
2.1
5.5
Straight
120V AC, 240V AC
1
Straight
5
I
Overcurrent, Overvoltage, Short Circuit
Black
00000000
00000
12V DC
1.6
Positive
2.1
5.5
Straight
120V AC, 240V AC
0.5
Straight
5
I
Overcurrent, Overvoltage, Short Circuit
Black
00000000
00000
12V DC
5
Positive
2.1
5.5
Straight
120V AC, 240V AC
1.4
Straight
5
I
Overcurrent, Overvoltage, Short Circuit
Black
00000000
00000
12V DC
7
Positive
2.1
5.5
Straight
120V AC, 240V AC
1.2
Straight
5
I
Overcurrent, Overvoltage, Short Circuit
Black
00000000
00000
15V DC
1.3
Positive
2.1
5.5
Straight
120V AC, 240V AC
0.5
Straight
5
I
Overcurrent, Overvoltage, Short Circuit
Black
00000000
00000
18V DC
1.1
Positive
2.1
5.5
Straight
120V AC, 240V AC
0.5
Straight
5
I
Overcurrent, Overvoltage, Short Circuit
Black
00000000
00000
18V DC
2
Positive
2.1
5.5
Straight
120V AC, 240V AC
1
Straight
5
I
Overcurrent, Overvoltage, Short Circuit
Black
00000000
00000
18V DC
3.6
Positive
2.1
5.5
Straight
120V AC, 240V AC
1.4
Straight
5
I
Overcurrent, Overvoltage, Short Circuit
Black
00000000
00000
18V DC
5
Positive
2.1
5.5
Straight
120V AC, 240V AC
1.2
Straight
5
I
Overcurrent, Overvoltage, Short Circuit
Black
00000000
00000
24V DC
0.8
Positive
2.1
5.5
Straight
120V AC, 240V AC
0.5
Straight
5
I
Overcurrent, Overvoltage, Short Circuit
Black
00000000
00000
24V DC
1.5
Positive
2.1
5.5
Straight
120V AC, 240V AC
1
Straight
5
I
Overcurrent, Overvoltage, Short Circuit
Black
00000000
00000
24V DC
2.7
Positive
2.1
5.5
Straight
120V AC, 240V AC
1.4
Straight
5
I
Overcurrent, Overvoltage, Short Circuit
Black
00000000
00000
24V DC
3.8
Positive
2.1
5.5
Straight
120V AC, 240V AC
1.2
Straight
5
I
Overcurrent, Overvoltage, Short Circuit
Black
00000000
00000
48V DC
0.5
Positive
2.1
5.5
Straight
120V AC, 240V AC
0.6
Straight
5
I
Overcurrent, Overvoltage, Short Circuit
Black
00000000
00000
48V DC
0.8
Positive
2.1
5.5
Straight
120V AC, 240V AC
1
Straight
5
I
Overcurrent, Overvoltage, Short Circuit
Black
0000000
00000
48V DC
1.4
Positive
2.1
5.5
Straight
120V AC, 240V AC
1.4
Straight
5
I
Overcurrent, Overvoltage, Short Circuit
Black
0000000
00000
48V DC
1.9
Positive
2.1
5.5
Straight
120V AC, 240V AC
1.2
Straight
5
I
Overcurrent, Overvoltage, Short Circuit
Black
0000000
00000
56V DC
1.2
Positive
2.1
5.5
Straight
120V AC, 240V AC
1.4
Straight
5
I
Overcurrent, Overvoltage, Short Circuit
Black
00000000
00000
56V DC
1.6
Positive
2.1
5.5
Straight
120V AC, 240V AC
1.2
Straight
5
I
Overcurrent, Overvoltage, Short Circuit
Black
00000000
00000

IEC C14 Input ×

4-Pin

Output

12V DC
12.5
__
__
__
Straight
120V AC, 240V AC
2.2
Straight
5
I
Overcurrent, Overvoltage, Short Circuit
Black
00000000
00000
12V DC
16
__
__
__
Straight
120V AC, 240V AC
2.8
Straight
5
I
Overcurrent, Overvoltage, Short Circuit
Black
00000000
000000
24V DC
6.6
__
__
__
Straight
120V AC, 240V AC
2.2
Straight
5
I
Overcurrent, Overvoltage, Short Circuit
Black
00000000
00000
24V DC
8.3
__
__
__
Straight
120V AC, 240V AC
2.8
Straight
5
I
Overcurrent, Overvoltage, Short Circuit
Black
00000000
000000
48V DC
3.3
__
__
__
Straight
120V AC, 240V AC
2.2
Straight
5
I
Overcurrent, Overvoltage, Short Circuit
Black
00000000
00000
48V DC
4.2
__
__
__
Straight
120V AC, 240V AC
2.8
Straight
5
I
Overcurrent, Overvoltage, Short Circuit
Black
00000000
000000