Electric Combination
Tensioner/Sealers

for Plastic Strapping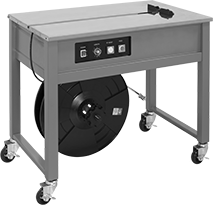 Capable of securing 15 polypropylene straps per minute, this mobile tensioner/sealer saves you time and energy. Manually pull strapping over the package and feed it into the strapping inlet. The tensioner/sealer tensions the strapping around the package, makes a sealless weld, and then feeds out strapping for the next package. Use with Plastic Strapping for Strapping Machines.
For
Strapping


Wd.

Wd.

ID

Lg.

Wd.

Ht.

Voltage

Current,


A

Frequency,


Hz
Plug
Type
Power
Cord


Lg.,

ft.

Caster
Type
Each

3/8

",

1/2

"
8"
8"
35"
23"
30"
120V AC
4.6
50/60
Three Prong
15
Four Swivel Casters (Two with Brakes)
000000
000000000
Battery-Powered

Combination

Tensioner/Friction-Weld

Sealers for Plastic Strapping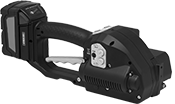 These tools use heat to secure strapping without crimping on a seal. They automatically apply tension, weld strapping onto itself, and cut off the excess strapping.
Note: To match with compatible strapping, choose items with the same strapping material, width, and thickness or material and strapping group number.
For Strapping
Group

No.

For Strapping


Wd.

For Strapping


Thick.

For Use With
Voltage

No.

of
Batteries
Included
Battery
Charger
Included
Each
10, 11, 12, 14

3/8

",

1/2

"
0.019"-0.031"
Embossed Polypropylene Strapping, Smooth Polyester Strapping, Smooth Polypropylene Strapping
18V DC
1
Yes
0000000
000000000
11, 12, 13, 14, 15, 16

1/2

",

5/8

"
0.019"-0.040"
Embossed Polypropylene Strapping, Smooth Polyester Strapping, Smooth Polypropylene Strapping
18V DC
1
Yes
0000000
00000000
16, 17

5/8

",

3/4

"
0.031"-0.051"
Embossed Polypropylene Strapping, Smooth Polyester Strapping, Smooth Polypropylene Strapping
18V DC
1
Yes
0000000
00000000
| | | | |
| --- | --- | --- | --- |
| Chargers for 18V Batteries | 0000000 | Each | 000000 |