Podiums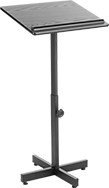 With Telescoping Stand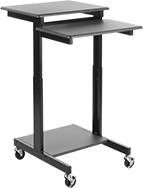 With Telescoping Stand and Casters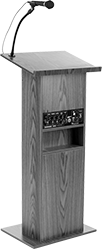 With
Microphone,
Speakers,
and Amplifier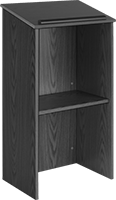 With Interior Shelf
Shipped unassembled. Some of these podiums cannot be sold to Canada due to import regulations.
Features

Ht.

Wd.

Dp.

Material
Electrical
Connection Type
Cord


Lg.,

ft.

Cannot Be
Sold To
Each
Telescoping Steel Stand
30"-44"
20"
16"
Oak Laminate
__
__
Canada
00000000
0000000
Telescoping Steel Stand, Casters, Laptop Shelf
39"-45"
24"
18"
Gray Laminate
__
__
Canada
00000000
000000
Clip-On Microphone, Hand-Held Microphone, Four Built-In Speakers, Amplifier, Tone Control, Volume Control
46"
22"
17"
Ribbonwood Laminate
Plug
6
__
00000000
000000
Interior Shelf
46"
23"
16"
Mahogany Laminate
__
__
Canada
00000000
000000
Part Presentation Stands
Position parts exactly where they're needed for workers, robots, and other machines to easily access them. Often used for machine tending jobs where robot arms load and unload parts in CNC machines, these stands have a removable 45° base adapter, which means they can hold part presentation plates horizontally or at a 45° angle. All include locating pins and hairpin clips to align and secure your plates on the stand platform. Install the clips into different grooves along the locating pin to handle parts of various heights. These stands have a plate storage rack with two hooks for hanging your part presentation plates. Use them to keep your plates organized, but out of the way, when they're not in use. Each stand also has a catch pan to keep coolant, shavings, and other runoff from dripping onto the floor. They slide in and out of their mounting bracket for easy cleaning and disposal.
For technical drawings and 3-D models, click on a part number.
Build-Your-Own

Robot Workstations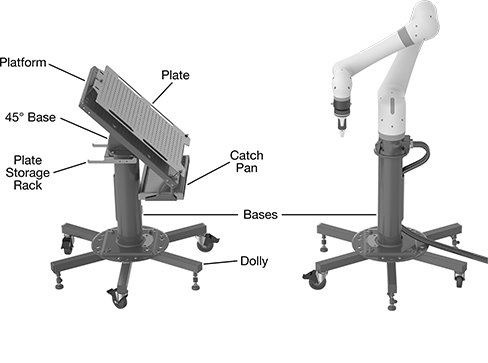 (All
Components Sold
Separately)
Mix and match a variety of components to create a custom workstation for moving parts in and out of CNC machines or other similar applications.
For technical drawings and 3-D models, click on a part number.