Vibration-Resistant

Test Gauges for Pressure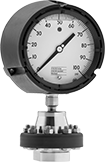 Single Scale with Bottom
Connection
(Flange Mount),
Guard,
and Polypropylene Case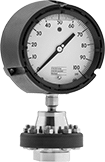 Single Scale With Bottom
Connection
(Flange Mount),
Guard,
And Polypropylene Case

Bottom Connection with Guard
These gauges have a glycerin-filled dial to reduce needle flutter for precise readings in high-vibration applications. Use them to test and calibrate pressure gauges and other equipment. Gauges have a safety case that blows out in the back under excess pressure, protecting the operator in front.
Gauges with stainless steel guard provide protection from corrosive media.
Gauges with polypropylene case can handle higher temperatures than gauges with phenolic case.
For technical drawings and 3-D models, click on a part number.
Polypropylene Plastic Case with 316 Stainless Steel Connection and Guard—Single Scale (psi)
For Use

With:

Air,

Diesel

Fuel,

Gasoline,

Hydraulic

Fluid,

Natural

Gas,

Water

Accuracy:

±1%

Full Scale

(Grade

1A)
Available Pressure Ranges

Pressure


Range,

psi
Graduation


Marks,

psi
Numeric


Increments,

psi
0 to 30
0.2
5
0 to 100
1
10
0 to 160
1
20
0 to 200
2
20
Bottom
Connection


(Flange Mount)

Dial


Dia.

Pipe
Size

Environment
Temperature

Range,

°F

Process
Temperature


Range,

°F

Case
Color
Mounting
Fasteners
Included

Dia.

No.


of
Features
Each

NPT Female

4

1/2

"
1

0° to 200°
0° to 400°
Black
No

1/4

"
3
Guard, Safety Case
0000000
0000000

NPT

Female—

Calibration Certificate Traceable to NIST

4

1/2

"
1

0° to 200°
0° to 400°
Black
No

1/4

"
3
Guard, Safety Case
0000000
000000