Pressure Recording Film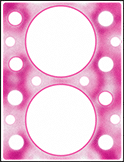 Bolted Joint Pressure Distribution
(Made with Color Film)

Create an instant, permanent image of pressure variation. Commonly used to measure pressing forces in bolted joints, welding fixtures, and jigs.
0.008" thick film includes two 0.004" thick sheets that must be used together.
0.02" thick film cannot be cut.
Use the color chart (sold separately) with color image producing film to determine magnitude of pressure measurements.
Color sample pack includes one 3" × 4" piece of film of each of the five pressure ranges and a color chart.
Pressure


Range,

psi
Image
Produced
Accuracy

Resolution, μ

Temperature


Range,

°F

Each
1,400-7,100
Color
±15%
5-15
70° to 95°
000000000
000000
7,100-18,500
Color
±15%
5-15
70° to 95°
000000000
00000
28-85
Color
±15%
5-15
70° to 95°
000000000
00000
70-350
Color
±15%
5-15
70° to 95°
000000000
00000
350-1,400
Color
±15%
5-15
70° to 95°
000000000
00000
18,500-43,200
Color
±15%
5-15
70° to 95°
000000000
00000
1,400-7,100
Color
±15%
5-15
70° to 95°
000000000
00000
7,100-18,500
Color
±15%
5-15
70° to 95°
000000000
00000
28-85
Color
±15%
5-15
70° to 95°
000000000
000000
70-350
Color
±15%
5-15
70° to 95°
000000000
000000
350-1,400
Color
±15%
5-15
70° to 95°
000000000
00000
18,500-43,200
Color
±15%
5-15
70° to 95°
000000000
00000
1,400-7,100
Color
±15%
5-15
70° to 95°
000000000
000000
7,100-18,500
Color
±15%
5-15
70° to 95°
000000000
000000
28-85
Color
±15%
5-15
70° to 95°
000000000
000000
70-350
Color
±15%
5-15
70° to 95°
000000000
000000
350-1,400
Color
±15%
5-15
70° to 95°
000000000
000000
18,500-43,200
Color
±15%
5-15
70° to 95°
000000000
000000
1,400-7,100
Color
±15%
5-15
70° to 95°
000000000
000000
7,100-18,500
Color
±15%
5-15
70° to 95°
000000000
000000
28-85
Color
±15%
5-15
70° to 95°
000000000
000000
70-350
Color
±15%
5-15
70° to 95°
000000000
000000
350-1,400
Color
±15%
5-15
70° to 95°
000000000
000000
18,500-43,200
Color
±15%
5-15
70° to 95°
000000000
000000
2-20
Grayscale
Not Rated
Not Rated
0° to 150°
0000000
00000
8-28
Color
±15%
5-15
70° to 95°
000000000
000000
8-28
Color
±15%
5-15
70° to 95°
000000000
000000
8-28
Color
±15%
5-15
70° to 95°
000000000
000000