About Carbon
Steel,

Alloy

Steel,

Spring

Steel,

and Cast Iron
Impact-Resistant

A516 Carbon Steel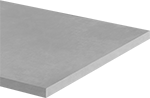 Yield

Strength:

38,

000 psi

Hardness:

Rockwell B80

(Medium)

Heat

Treatable:

Yes

Max.

Hardness After Heat

Treatment:

Not Rated
Specifications

Met:

ASTM A516
Even in low temperatures, A516 carbon steel resists breaking upon impact. Also known as pressure-vessel-quality (PVQ) steel, it is mostly used for boilers, storage tanks, and pressure vessels.
For technical drawings and 3-D models, click on a part number.

Certificates with a traceable lot number are available for these products. Download certificates from ORDER HISTORY after your order ships.
Thick.

Thick.


Tolerance
Flatness
Tolerance
Each

3/16

"
0" to 0.04"
0.015"
0000000
000000

1/4

"
0" to 0.04"
0.015"
0000000
00000

3/8

"
0" to 0.04"
0.015"
0000000
00000

1/2

"
0" to 0.04"
0.015"
0000000
000000
1"
0" to 0.04"
0.015"
0000000
000000

3/16

"
0" to 0.04"
0.015"
0000000
00000

1/4

"
0" to 0.04"
0.015"
0000000
00000

3/8

"
0" to 0.04"
0.015"
0000000
000000

1/2

"
0" to 0.04"
0.015"
0000000
000000
1"
0" to 0.04"
0.015"
0000000
000000

3/16

"
0" to 0.04"
0.015"
0000000
000000

1/4

"
0" to 0.04"
0.015"
0000000
000000

3/8

"
0" to 0.04"
0.015"
0000000
000000

1/2

"
0" to 0.04"
0.015"
0000000
000000
1"
0" to 0.04"
0.015"
0000000
000000

3/16

"
0" to 0.04"
0.015"
0000000
000000

1/4

"
0" to 0.04"
0.015"
0000000
000000

3/8

"
0" to 0.04"
0.015"
0000000
000000

1/2

"
0" to 0.04"
0.015"
0000000
000000
1"
0" to 0.04"
0.015"
0000000
000000

3/16

"
0" to 0.04"
0.015"
0000000
000000

1/4

"
0" to 0.04"
0.015"
0000000
000000

3/8

"
0" to 0.04"
0.015"
0000000
000000

1/2

"
0" to 0.04"
0.015"
0000000
000000
1"
0" to 0.04"
0.015"
0000000
00000000