Electric Winches for Wire
Rope—

For Horizontal Pulling
Use the handheld control to move loads horizontally. For additional wire rope lengths, see Wire Rope with Hook for Winches.
Winches with enclosed gears are partially covered for protection from dirt and debris.
Note: The maximum capacity listed below is based on the capacity for the third layer of rope on the winch. Capacity is highest for the first layer of rope (at least five wraps of rope on the winch) and decreases as each additional layer of rope is wound on the winch.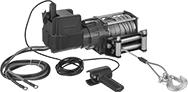 Enclosed Gears
Max.

Cap.




(w/Pulley),




lbs.

Fully
Wound

Cap.




(w/Pulley),

lbs.

Min.

Line


Speed,


fpm
Rope


Lg.,




ft.

O'all




Wd.

O'all




Lg.

O'all




Ht.

Current,


A
Control
Cord


Lg.,

ft.

Brake
Type
Batteries
Included
Features
Each

Enclosed Gears and Battery Powered

(12V DC)

90 Seconds

On,

15 Minutes Off

1,325
1,100
4
35
5

3/16

"
13

3/8

"
6

1/8

"
80
12
Automatic
No
Aluminum Housing, Reversible Pulling Directions
0000000
0000000
3,150
2,900
5
43
7

5/16

"
15

7/8

"
6

7/8

"
240
12
Mechanical and Dynamic
No
Aluminum Housing
0000000
000000
3,750
3,000
7
60
7

5/16

"
14

7/8

"
7

3/8

"
220
12
Mechanical and Dynamic
No
Aluminum Housing
0000000
000000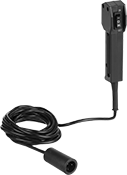 Replacement Remote Switch
For Body Type
For Power
Source
For

Max.




Capacity,

lbs.

Control
Cord

Lg.,

ft.

Each

Remote Switch

Enclosed Gears
Battery
1,325
3,150
3,750
12
0000000
000000