How to

Identify and Measure Fittings
Pipe size is an industry designation, not the actual size. View information about how to measure threaded and unthreaded pipe and pipe fittings.
Drain,

Waste,

and Vent ABS Pipe Fittings for Chemicals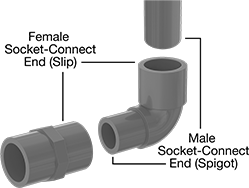 For Use

With:

Sodium Hydroxide

Max.

Temperature:

180° F

Specifications

Met:

ASTM

D2661,

ASTM

D3311,

ASTM

D3965,

ASTM F1498

Pipe Nipples and

Pipe:

Use Schedule 40 ABS Plastic

Flanges:

Use Schedule 40 ABS Plastic
These Schedule 40 fittings are an economical option for gravity-flow chemical waste systems. They are ABS plastic, which has excellent strength and impact resistance and good chemical resistance. Fittings meet ASTM D2661, ASTM D3311, ASTM D3965, and ASTM F1498 specifications and testing requirements for material quality and product dimensions.
Attach socket-connect ends to unthreaded pipe or another socket-connect fitting with ABS cement (also known as solvent weld).
Warning: Never use plastic pipe fittings and pipe with compressed air or gas.
Sealants cannot be sold to Colorado, Connecticut, District of Columbia, Delaware, Illinois, Indiana, Massachusetts, Maryland, Maine, Michigan, New Hampshire, New Jersey, Northern Virginia, New York, Ohio, Pennsylvania, Rhode Island, or Utah due to local VOC (Volatile Organic Compounds) regulations.
For technical drawings and 3-D models, click on a part number.
Wye Connectors, Female Socket Connect