Clear Cellulose Film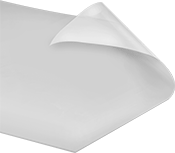 Color:

Clear
Maximum

Temperature:

212° F

Tensile

Strength:

1900 psi

(Poor)

Impact

Strength:

Not Rated

Hardness:

Not Rated

For Use

Outdoors:

No
Also called acetate, this is the same clear film that's used in window envelopes. Choose cellulose when you need a low-cost plastic with good clarity.
For technical drawings and 3-D models, click on a part number.
Office Tape

Tape with Dispenser

Tape
Use these tapes for light duty mending and holding.
Scotch Magic 810 tape is made of cellulose that becomes as clear as glass upon application. It has an ink-receptive surface that allows you to write on it.
Scotch Double-Sided tape comes with a dispenser and has adhesive on both sides.
Wd.

Overall


Thick.

Material

Temp.Range,




°F

Adhesive
Type
Features
Color

Lg.,




ft.

Each

Short Roll

Adhesive on One Side

3M Scotch Magic 810 with Dispenser

3/4

"
0.002"
Cellulose Plastic
60° to 80°
Acrylic
Ink-Receptive Surface
Clear
54
0000000
00000

1/2

"
0.002"
Cellulose Plastic
60° to 80°
Acrylic
Ink-Receptive Surface
Clear
108
00000000
0000

3/4

"
0.002"
Cellulose Plastic
60° to 80°
Acrylic
Ink-Receptive Surface
Clear
108
00000000
0000

Adhesive on Both Sides

3M Scotch

Double-Sided

with Dispenser

3/4

"
0.002"
Cellulose Plastic
40° to 170°
Acrylic
__
Clear
25
000000
0000

Long Roll

Adhesive on One Side

1/2

"
0.002"
Cellulose Plastic
60° to 80°
Acrylic
Ink-Receptive Surface
Clear
216
00000000
0000

3/4

"
0.002"
Cellulose Plastic
60° to 80°
Acrylic
Ink-Receptive Surface
Clear
216
00000000
0000
1"
0.002"
Cellulose Plastic
60° to 80°
Acrylic
Ink-Receptive Surface
Clear
216
00000000
0000