Notched Trowels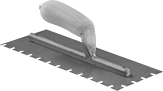 Steel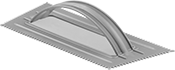 Plastic
Spread adhesives with these trowels.
Steel trowels have two straight sides and two sides with U-shaped notches.
Plastic trowels have V-shaped notches on all four sides.
Disposable Notched Trowels
For easy cleanup, these trowels are disposable.
Trowels with square notches have different size notches on each side.
Trowels with V notches have one straight side and different size notches on three sides.
Disposable Nonscratching Plastic Putty Knives

Straight Edge

Serrated Edge with Square Teeth

Serrated Edge with
V-Shaped
Teeth
Spread adhesive, thinset, and other hard-to-clean materials without scratching your surface and then simply throw these knives away.
Knives with a serrated blade edge have square or V-tooth notched teeth for evenly applying material.
For technical drawings and 3-D models, click on a part number.
Wd.

Lg.

Color
Overall


Lg.

Flexibility

Lg.

Material
Each

Pkg.




Qty.

Pkg.

Straight Edge

Straight Blade

1

1/2

"
3

3/4

"
Black
7

1/2

"
Flexible
3

3/4

"
Plastic
0000000
00000
20
00000000
000000
2"
3

3/4

"
Black
7

1/2

"
Flexible
3

3/4

"
Plastic
0000000
0000
20
00000000
00000
3"
3

3/4

"
Black
7

1/2

"
Flexible
3

3/4

"
Plastic
0000000
0000
20
00000000
00000
4"
3

3/4

"
Black
7

1/2

"
Flexible
3

3/4

"
Plastic
0000000
0000
20
00000000
00000
6"
3

3/4

"
Black
7

1/2

"
Flexible
3

3/4

"
Plastic
0000000
0000
20
00000000
00000

Serrated Edge with Square Teeth

Straight Blade

3"
3.65"
White
7

1/4

"
Flexible
3

5/8

"
Plastic
0000000
0000
20
00000000
00000
3"
3

3/4

"
Black
7

1/2

"
Flexible
3

3/4

"
Plastic
0000000
0000
20
00000000
00000

Serrated Edge with

V-Shaped

Teeth

Straight Blade

3"
3.65"
White
7

1/4

"
Flexible
3

5/8

"
Plastic
0000000
0000
20
00000000
00000
3"
3

3/4

"
Black
7

1/2

"
Flexible
3

3/4

"
Plastic
0000000
0000
20
00000000
00000