Adjustable-Clearance

Padlocks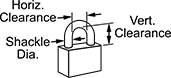 More versatile than other padlocks because the shackles can lock in several vertical positions. Choose these locks if you need locks that each open with a different key. All locks have random key numbers.
Warded locking mechanisms are a basic locking mechanism without pins or discs.
For technical drawings and 3-D models, click on a part number.
Vertical
Clearance
Horizontal
Clearance

Dia.

Material

Ht.

Wd.

Thick.

Manufacturer
and Model


No.

Bumper
Color

No.

of
Keys
Included
Key
Locking
Mechanism

1-5

6-Up

Laminated Steel Body

7/8

", 1

1/8

", 1

3/8

", 1

5/8

", 2"

13/16

"

9/32

"
Steel
1

3/16

"
1

3/4

"

7/8

"
Master Lock 510
Gray
2
Warded
000000
00000
00000
3

1/8

", 3

3/8

", 3

3/4

", 4", 4

1/4

", 4

5/8

", 4

7/8

", 5

1/8

", 5

3/8

"

13/16

"

9/32

"
Steel
1

3/16

"
1

3/4

"

7/8

"
Master Lock 517
Gray
2
Warded
000000
00000
0000