High-Flow

Low-Pressure

Compressed Air Blowers
Also known as regenerative blowers, use these to produce high-flow compressed air with low pressure or vacuum to operate pump drives, lift tables, and conveying systems. Compressed air blowers are also used for drying, exhausting, and aeration.
Air circulates inside the blower housing to compress air, which generates pressure or vacuum. Single-stage blowers circulate air once and then exhaust. Two-stage blowers circulate air twice and then exhaust, creating higher pressure or vacuum than single-stage blowers with the same horsepower.
Inverter-rated blowers have a motor that can run at slow speeds without overheating, so they can be used with a motor speed control (variable frequency drive).
For technical drawings and 3-D models, click on a part number.
Single Stage Blower
Maximum
Pressure

Max.

Flow
Rate
@ psi
Vacuum
Rating
hp
Full
Load
Current

Vol.,


dBA

Lg.

Wd.

Ht.

Temp.




Range,




° F

Inlet

Outlet

Each
Each
Each

Single

Phase,

120/208/230V

AC

NPT Female Inlet and Outlet

1 psi
29 in. of H2O
27 cfm @ 0
1.9 in. of Hg
27 in. of H2O

1/8

2.3 A @ 115 V AC
1.2 A @ 208 V AC
1.2 A @ 230 V AC
57
9"
8"
9"
32° to 100°
1

1

0000000
0000000
00000000
0000000
00000000
0000000
1 psi
39 in. of H2O
42 cfm @ 0
2.6 in. of Hg
35 in. of H2O

1/3

3.8 A @ 115 V AC
2.0 A @ 208 V AC
1.9 A @ 230 V AC
63
10"
9"
9"
32° to 100°
1

1

0000000
00000000
00000000
000000
00000000
000000
2 psi
42 in. of H2O
52 cfm @ 0
3.0 in of Hg
40 in. of H2O

1/2

6.0 A @ 115 V AC
3.2 A @ 208 V AC
3.0 A @ 230 V AC
68
13"
10"
10"
32° to 100°
1

1/4

1

1/4

0000000
00000000
00000000
000000
00000000
000000
2 psi
52 in. of H2O
92 cfm @ 0
3.5 in. of Hg
48 in. of H2O
1
9.8 A @ 115 V AC
5.2 A @ 208 V AC
4.9 A @ 230 V AC
68
13"
11"
12"
32° to 100°
1

1/2

1

1/2

0000000
00000000
00000000
000000
00000000
000000
2 psi
65 in. of H2O
127 cfm @ 0
4.4 in. of Hg
60 in. of H2O
1

1/2

17.5 A @ 115 V AC
10.0 A @ 208 V AC
9.0 A @ 230 V AC
74
16"
13"
14"
32° to 100°
1

1/2

1

1/2

0000000
00000000
00000000
000000
00000000
000000

Single

Phase,

120/230V

AC

BSPP Female Inlet and Outlet

2 psi
56 in. of H2O
57 cfm @ 0
3.8 in. of Hg
52 in. of H2O

1/2

6.0 A @ 115 V AC
3.0 A @ 230 V AC
56
10"
10"
10"
5° to 100°
1

1/4

1

1/4

0000000
00000000
000000
00
000000
00
3 psi
76 in. of H2O
102 cfm @ 0
5.3 in. of Hg
72 in. of H2O
1

1/2

14.0 A @ 115 V AC
7.0 A @ 230 V AC
64
12"
11"
12"
5° to 100°
1

1/2

1

1/2

0000000
00000000
000000
00
000000
00

NPT Female Inlet and Outlet

3 psi
72 in. of H2O
148 cfm @ 0
5.3 in. of Hg
72 in. of H2O
2

1/4

24.0 A @ 115 V AC
12.0 A @ 230 V AC
70
14"
13"
13"
5° to 100°
2

2

0000000
00000000
000000
00
000000
00

Three

Phase,

190/230/380/460V

AC

(Inverter Rated)

NPT Female Inlet and Outlet

2 psi
56 in. of H2O
103 cfm @ 0
4.1 in. of Hg
56 in. of H2O
1
4.4 A @ 190 V AC
3.7 A @ 230 V AC
2.2 A @ 380 V AC
2.1 A @ 460 V AC
64
11"
11"
12"
32° to 100°
1

1/2

1

1/2

0000000
00000000
000000
00
000000
00
3 psi
79 in. of H2O
150 cfm @ 0
6.5 in. of Hg
88 in. of H2O
2

3/4

7.5 A @ 190 V AC
7.3 A @ 230 V AC
4.3 A @ 380 V AC
4.4 A @ 460 V AC
70
14"
13"
15"
32° to 100°
2

2

0000000
00000000
000000
00
000000
00
3 psi
92 in. of H2O
221 cfm @ 0
7.1 in. of Hg
96 in. of H2O
4

1/2

12.5 A @ 190 V AC
12.6 A @ 230 V AC
7.2 A @ 380 V AC
7.3 A @ 460 V AC
72
15"
15"
17"
32° to 100°
2

2

0000000
00000000
000000
00
000000
00
4 psi
116 in. of H2O
150 cfm @ 0
7.7 in. of Hg
104 in. of H2O
3

1/4

9.7 A @ 190 V AC
10.3 A @ 230 V AC
5.6 A @ 380 V AC
6.0 A @ 460 V AC
70
14"
13"
15"
32° to 100°
2

2

0000000
00000000
000000
00
000000
00

Three

Phase,

208/230/460V

AC

NPT Female Inlet and Outlet

2 psi
43 in. of H2O
53 cfm @ 0
2.9 in. of Hg
40 in. of H2O

1/2

2.0 A @ 208 V AC
2.0 A @ 230 V AC
1.0 A @ 460 V AC
68
11"
10"
10"
32° to 100°
1

1/4

1

1/4

0000000
00000000
00000000
000000
00000000
000000
2 psi
52 in. of H2O
92 cfm @ 0
3.5 in. of Hg
48 in. of H2O
1
3.4 A @ 208 V AC
3.2 A @ 230 V AC
1.6 A @ 460 V AC
68
13"
11"
12"
32° to 100°
1

1/2

1

1/2

0000000
00000000
00000000
000000
00000000
000000
2 psi
65 in. of H2O
127 cfm @ 0
4.4 in. of Hg
60 in. of H2O
1

1/2

5.1 A @ 208 V AC
4.9 A @ 230 V AC
2.5 A @ 460 V AC
74
14"
13"
14"
32° to 100°
1

1/2

1

1/2

0000000
00000000
00000000
000000
00000000
000000

Three

Phase,

208/230/460V

AC

(Inverter Rated)

NPT Female Inlet and Outlet

4 psi
105 in. of H2O
207 cfm @ 0
6.5 in. of Hg
88 in. of H2O
5
13.0 A @ 208 V AC
12.0 A @ 230 V AC
6.0 A @ 460 V AC
72
19"
15"
15"
32° to 100°
2

2

0000000
00000000
00000000
000000
00000000
000000
4 psi
110 in. of H2O
265 cfm @ 0
6.6 in. of Hg
90 in. of H2O
6
16.0 A @ 208 V AC
15.0 A @ 230 V AC
7.5 A @ 460 V AC
79
17"
17"
18"
32° to 100°
2

2

0000000
00000000
00000000
000000
00000000
000000
5 psi
125 in. of H2O
420 cfm @ 0
8.1 in. of Hg
110 in. of H2O
10
35.0 A @ 208 V AC
29.5 A @ 230 V AC
15.0 A @ 460 V AC
78
22"
18"
20"
32° to 100°
2

1/2

2

1/2

0000000
00000000
00000000
000000
00000000
000000

Three

Phase,

220/275/380/480V

AC

(Inverter Rated)

BSPP Female Inlet and Outlet

2 psi
64 in. of H2O
57 cfm @ 0
4.4 in. of Hg
60 in. of H2O

1/2

2.6 A @ 200 V AC
2.6 A @ 275 V AC
1.5 A @ 380 V AC
1.5 A @ 480 V AC
56
10"
10"
10"
5° to 100°
1

1/4

1

1/4

0000000
00000000
000000
00
000000
00

Three

Phase,

230/460V

AC

(Inverter Rated)

NPT Female Inlet and Outlet

4 psi
105 in. of H2O
795 cfm @ 0
7.0 in. of Hg
95 in. of H2O
18
52.0 A @ 230 V AC
26.0 A @ 460 V AC
79
29"
18"
20"
32° to 100°
2

1/2

4

0000000
00000000
00000000
000000
00000000
00000000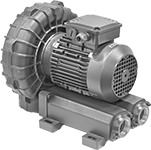 Maximum
Pressure

Max.

Flow
Rate
@ psi
Vacuum
Rating
hp
Full
Load
Current

Vol.,


dBA

Lg.

Wd.

Ht.

Temp.




Range,




° F

Inlet

Outlet

Each
Each

Three

Phase,

208/230/460V

AC

(Inverter Rated)

NPT Female Inlet and Outlet

5 psi
140 in. of H2O
65 cfm @ 0
11.1 in. of Hg
151 in. of H2O
2
5.8 A @ 208 V AC
5.2 A @ 230 V AC
2.8 A @ 460 V AC
72
16"
13"
14"
5° to 100°
1

1/4

1

1/4

0000000
000000000
0000000
0000000
5 psi
141 in. of H2O
81 cfm @ 0
11.1 in. of Hg
151 in. of H2O
3
8.3 A @ 208 V AC
7.4 A @ 230 V AC
4.0 A @ 460 V AC
73
16"
14"
15"
5° to 100°
1

1/4

1

1/4

0000000
00000000
0000000
000000