Fan-Cooled

Compressed Air Aftercoolers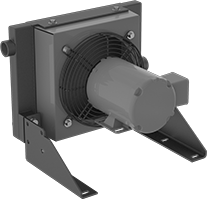 These aftercoolers have a fan that chills hot air coming from a compressor. Cooling the air condenses water for removal from your compressed air system. Install a separator (not included) after your aftercooler to collect and discharge water.
For technical drawings and 3-D models, click on a part number.
Pipe
Size

Thread
Type
Gender
Pipe
Size

Thread
Type
Gender

Max.




Pressure,


psi

Max.

Flow
Rate
@ psi

Max.




Temp.,




°F

Cools
Air
Within

Ht.

Wd.

Dp.

hp
Each

Ceiling-,

Floor-,

and

Wall-Mount

Single

Phase,

115-230V

AC

1

NPT

Female
1

NPT

Female
250
50 scfm @ 80
350°
15° F of Ambient Air
12

7/8

"
19

1/2

"
13

3/4

"

1/3

0000000
000000000
1

1/2

NPT

Female
1

1/2

NPT

Female
250
100 scfm @ 80
350°
15° F of Ambient Air
13

1/4

"
19

1/2

"
15

1/8

"

1/3

0000000
00000000
1

1/2

NPT

Female
1

1/2

NPT

Female
250
200 scfm @ 80
350°
15° F of Ambient Air
17

1/4

"
23

1/4

"
16

1/4

"

1/2

0000000
00000000