Precision Stainless Steel Tubing
This tubing is made to tighter tolerances than other stainless steel tubing. It is welded with a smoothed weld bead on the inside to reduce particle buildup. Tubing connects by welding.
304 stainless steel has very good corrosion resistance.
316 stainless steel offers excellent corrosion resistance.
For technical drawings and 3-D models, click on a part number.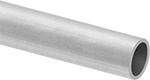 Straight
Temperature

Range:

-420° to 600° F

Bending

Method:

Tube Bender
OD
OD Tolerance
Wall


Thick.

ID

Max.

Pressure
Temper
Rating

1 ft.

Lg.

3 ft.

Lg.

304 Stainless

Steel—

For Use With

Air,

Hydraulic

Fluid,

Natural

Gas,

Oil,

Water

0.313"
-0.002" to 0.004"
0.015"
0.282"
3,000 psi @ 72° F
Hard
00000000

316 Stainless

Steel—

For Use With

Air,

Hydraulic

Fluid,

Natural

Gas,

Oil,

Water

0.313"
-0.002" to 0.004"
0.015"
0.282"
3,000 psi @ 72° F
Hard
00000000